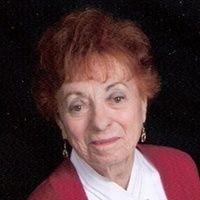 Sue H. Harting was peacefully called home to The Lord August 25, surrounded by two of her grandchildren and her pastor, Reverend George Patterson.
Sue was born October 27, 1935 to her parents Paul Morris Dunlap and Irene Charlotte Tickner Dunlap in Baltimore, MD. Sue was an excellent student, graduating from Western High School and continuing her education at Anne Arundel Community College where she earned an associate of arts degree.
Sue went on to be an employee of the NSA in Ft. Meade, MD. During her many years with this crucial intelligence agency she made many lifelong friends and assisted in assuring the safety and security of Americans at home and abroad. This was a task she undertook solemnly and with the greatest sense of duty. She was proud of her work and proud to be an American.
Sue was married to Charles Harting in 1975 and remained married until his passing in 1986. Sue was enormously proud of her children Mark Linton, Sheryl Harting and Todd Harting.
Sue was a tremendously charitable and caring person, as evidenced through her membership in groups such as The International Order of Job's Daughters, and Elk's Club #2643, Her 20+ years of service to the Atlantic General Hospital Auxiliary in Berlin, MD, her life Membership to the White Rocks Yacht Club, her associate Membership to the F.O.P. Lodge #69, and her membership to the VFW Auxiliary #160, AARP #1917, and NARFE #2274. Those who knew Sue will remember her vast kindness, wisdom, generosity, strength, and grace. Through the many tragedies of her life, Sue looked to God and was truly one of the most faithful people you could hope to meet. She will be missed for her sense of humor, her warm personality, and her incredible ability to listen to others and comfort them in times of need.
Sue is preceded in death by her parents, Paul Morris Dunlap and Irene Charlotte Tickner Dunlap, her husband Charles Oliver Harting, her sister-in-law Anita Kruger, her brother-in-law Gerald Harting, her children Mark Charles Linton Sr., Todd Jeffrey Harting, and Sheryl Suzanne Mitrecic, and her grandsons Mark Charles Linton Jr. and Christopher Hines. Sue is survived by her brothers Dean Dunlap and Paul Dunlap, her sister-in-law Katherine Gilliss, her brother-in-law Dennis Harting, her step-daughter Charlene Hines, her daughter-in-law Arlene Feinberg Linton, her grandson Michael Linton and his wife Emily, and their three children Aubrey, Carson, and Londyn, her son-in-law Joseph Mitrecic, her grandchildren, Madison Mitrecic and Jacob Mitrecic, her great granddaughter Kailey Nordeck, her many nieces and nephews, and countless friends, fellow churchgoers, volunteers, and the people whose lives she has touched throughout the years.
A service will be held in Sue's memory at Atlantic United Methodist Church August 31st at 12:00 PM. A visitation will be held preceding the service from 10 am to 12:00 PM. In lieu of flowers, please send donations to the Atlantic United Methodist Church at 105 4th St., Ocean City, MD 21842.
Arrangements are in the care of the Burbage Funeral Home in Berlin. Letters of condolence may be sent via www.burbagefuneralhome.com