The AC purchased a rare letter signed by Herbert O. Yardley for $300 from a private seller. The letter dated 6 June 1931, is type-written on Yardley's stationary and signed in blue ink. The letter is addressed to Mr. Ross Baker, from Bobbs-Merrill Co., New York., publisher of Yardley's infamous 1931 novel, The American Black Chamber (aka the ABC). The ABC describes the inner workings of the American government cryptography organization called the Black Chamber. Cryptography historian Dr. David Kahn called the book, "the most famous book on cryptology ever published."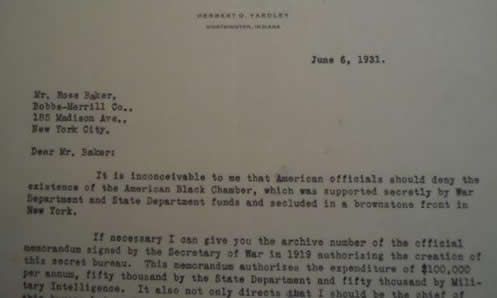 Of note is the first paragraph of the letter which states: "It is inconceivable to me that American officials should deny the existence of the American Black Chamber, which was supported secretly by War Department and State Department funds and secluded in a brownstone front in New York." Other passages in the letter describe the creation of the cryptology section of the State Department, residence addresses for the ABC, and the time spent in New York until the American Black Chamber was closed.
The last and only paragraph on page 2 begins: "It is utterly ridiculous for the United States Government to depend upon antiquated methods for the encipherment of its messages." Signed ephemera from Yardley is rarely available for sale, especially correspondence dealing with his ABC novel, and will be a unique addition to our Yardley collection. A photo of the passage from the first paragraph is included below.
Originally posted 3/11/2014