In December 2009 the Acquisition Chairman (AC) bid on and won two very rare Civil War-era letters of cryptologic significance. The total cost of the letters was $5,968.75. The Museum staff and History Department researched the history of the letters and prepared them for inclusion in the Civil War era exhibit. The letter is pictured here and a detailed description is provided below the image.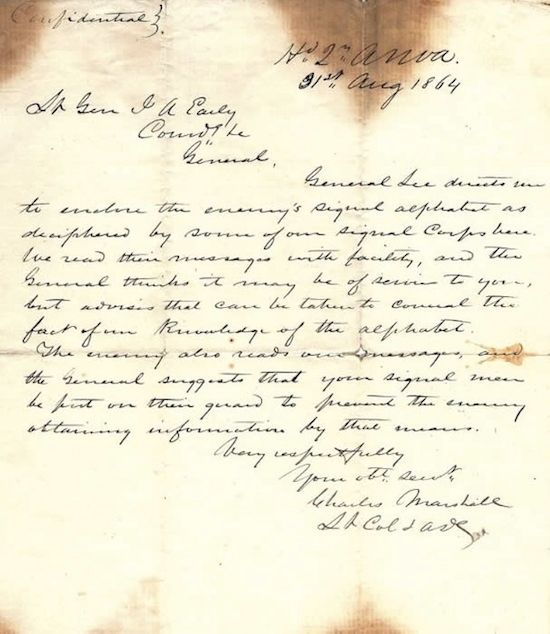 A detailed description of the letters follows:
The Confederate Army Deciphers The Union Signal Flag Code
This letter is a rarity among rarities. It's dated 21 Aug 1864 from Lt. Col. Charles Marshall (General Robert E. Lee's aide de camp and military secretary) to Lt.Gen. Jubal A. Early, one of General Lee's most trusted field commanders. In the letter Lt. Col. Marshall notifies Lt. Gen. Early that the Confederate Signal Corp have "deciphered" the enemy (i.e., the Union) signal alphabet for visual signaling. This alphabet would have been the Wig Wag code, a single flag code developed by U.S. Army Major Albert Myer in the 1850s, and first used in the Battle of Bull Run. The code was used extensively by both the Union and Confederate armies throughout the war. Lt. Col. Marshall also cautions Lt. Gen. Early to conceal the fact of Confederate knowledge of the Union signal code, and exhorts the General to have the Confederate signalmen on their guard to prevent the Union army from obtaining information by that means. This letter represents one of the earliest and best examples of both Signals Intelligence (SIGINT) and Communications Security (COMSEC) references in tactical military communications in American military history. Also of interest is the letter is marked as "Confidential" although it was evidently sent in the clear (i.e., unencoded) by pouch/courier from General Lee's headquarters to Lt. Gen. Early's location.
The following is the text of the letter as best we can interpret it:
Confidential ???? ANVA (Army of Northern Virginia)
31 August 1864
Brigadier General JA Early
Confederacy
General,
General Lee directs me to enclose the enemy's signal alphabet as deciphered by some of our signal corps here. We read their messages with facility, and the General thinks it may be of service to you but advises that care be taken to conceal the fact of our knowledge of the alphabet. The enemy also reads our messages, and the General suggests that your signal men be put on their guard to prevent the enemy obtaining information by that means.
Very Respectfully,
Your ??????,
Charles Marshall
Lt. Colonel and ????
The "Peter Cottontail Code" Confederate Spy Letter
General William Hardee was a Georgian born West Point graduate who fought for the Confederate Army during the Civil War. He led a Confederate Corps at the Battle of Shiloh, commanded the Confederate Army at the Battle of Perryville, and was one of the leading Confederate generals at the battle of Chattanooga and throughout the Atlanta Campaign. General Leonidas Polk from Tennessee was a cousin of President James Polk and an Episcopal Bishop from Louisiana prior to the start of the Civil War. He was appointed to the position of General because of his close friendship with Confederate President Jefferson Davis. By many accounts he was a poor General who made numerous tactical blunders during the war, and was held in ill-regard by many of his military contemporaries. He was killed in battle outside of Marietta Georgia on 14 June 1864.
The four-page letter written by "Jimmy Rabbit" on 24 April (year unknown, but no later than 1864) in Lupinsville Georgia is addressed to General Polk in cryptic style using the children's story of Peter Cottontail to mask the military subject matter. It starts, "My Dear General Rabbit," and has numerous rabbit-related references and descriptions of rabbit-related idiosyncrasies throughout. It appears to be, inter alia, a military situation report (e.g., "I heard the other day that General Hardee had killed about 400 rabbits..."). The letter is a translation of a message written in code (i.e., "the Peter Cottontail Code"), and was found among the personal papers of General Polk. It is an intriguing and rare piece of early American code-related history but the exact meaning and translation may never be known. Pictures of the four-page letter are included below.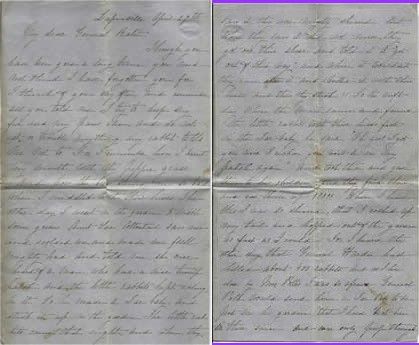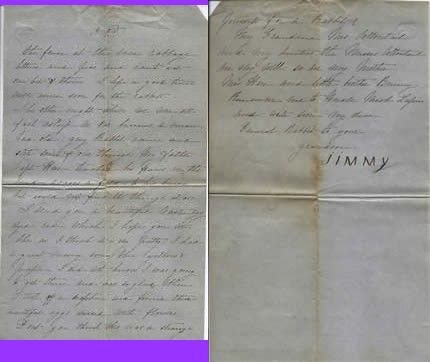 The following is the text of the letter as best we can interpret it:
Lupinsville April 24th My Dear General Rabbit,
Though you have been gone a long time, you need not to think that I have forgotten you. For I think of you very often and remember all you told me. I try to keep my fur and my paws clean and do not eat or trouble anything any rabbit tells me not to. For I remember how I burnt my mouth with the pepper grass. And how the bees stung me so bad when I meddled with their hives. The other day I went in the garden to nibble some greens. Aunt Sue Cottontail saw me and scolded me and made me feel mighty bad. And told me, she once heard of a man, who had a nice turnip patch, and the little rabbits kept eating in it. So, he made a Tar baby and stuck it up in the garden. The little rabbits came that night and when they saw it they was mighty skeared. But when they saw it did not move, they got over their skear, and told it to "get out of their way", and when it wouldn't they ran at it, and butted it with their heads. And there they stuck!! So, the next day when the man came and found the little rabbits with their heads fast in the Tar baby, he said, "Oh yes! I got you now. I reckon you won't be in my patch again." And took them and gave them to his children, and they fried them and eat them up!!!!! When I heard this I was so skeared, that I cocked up my tail and hopped out of the garden as fast as I could. For I heard the other day that General Hardee had killed about 400 rabbits. And as I was close by Mrs. Polk's I was so afraid General Polk would send home a Tar baby to be put in his garden, that I have not been in there since. And can only peep through the fence at the nice cabbage lettuce and peas. And can't eat one bit of them. I hope a good time will come soon for the rabbits. The other night while we were all fast asleep in our burrows, a mean, bad, old, grey Rabbit came and stole some of our things. My father, Capt. Hare tracked his paws in the mud across a field to his burrow but could not find the things at all.
I send you a beautiful Easter egg dyed red, which I hope you will like as I think it is very pretty. I had a great many some blue, yellow and purple. I did not know I was going to get them and was so glad when I took off a napkin and found these beautiful eggs dressed with flowers.
Don't you think this was a strange present for a Rabbit?
My Grandma Mrs. Cottontail and my Aunties the Misses Cottontails are very well so is my mother, Mrs. Hare and little brother Bunny.
Remember me to the Uncle Mich Lupin and write soon my dear General Rabbit to your Grandson
Jimmy