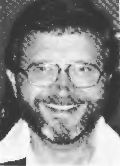 Francis X. Porrino passed away on March 25, 1979 of a heart attack at the age of 46.
Born in Philadelphia, PA, Mr. Porrino served in the USAF during the Korean Conflict, and was a graduate of the University of Maryland and the National War College. During his 24 years of service with NSA, he held a variety of staff and management positions both in the U.S. and overseas. At the time of his death, he was serving as an Office Chief and was President of the Communications Analysis Association. He held the NSA Merritorious Civilian Service Award, an honor that was bestowed on him in 1964.
Mr. Porrino was active in St. Nicholas Parish in Laurel, where he served as an usher and lector, and played a role in the building of the church in the 1960s. He was also an active member of the Oaklands Citizen Association, the Montpelier Civic Association, and the Parent-Teachers Associations at Montpelier Elementary and Eisenhower Junior High Schools.
He was survived by his wife and their four children, as well as his brother and two sisters.