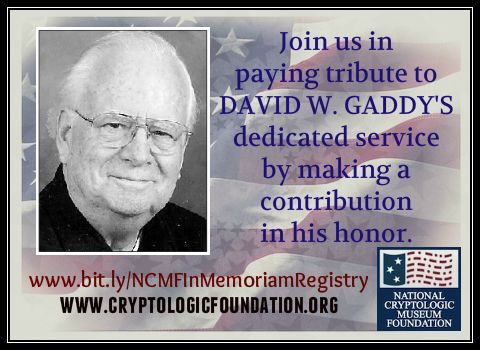 David W. Gaddy, age 83, of Tappahannock, Va., passed away on November 22, 2015. He was born in Albemarle, N.C. on February 3, 1932. He married Martha Christine Snow of Charlottesville, VA in 1953. They met while attending school at Mars Hill College in North Carolina and then completing college at UNC, Chapel Hill. He had two daughters, Rebecca Lucinda Gaddy (who passed away in 1989) and Catherine Diane Gaddy of Cambridge, MD. Grandson, Patrick Gaddy Doyle, resides in New York, NY.
During his career, David served in the Department of Defense, first as a translator and analyst and later rising to become a Senior Executive. He received a master's degree from George Washington University in Washington, D.C. He was especially proud later in his career of his contributions to the establishment of the National Cryptologic Museum at Fort Meade, MD. He retired from the Agency in 1994 with 36 years of service. He was a member of the National Cryptologic Museum Foundation and the Phoenix Society.  While David made many contributions to the NCMF in addition to serving on the Board of Directors, his biggest legacy was the NCMF bulletin titled The Link. He was the editor, and The Link was published between 1998 and 2012.
He was co-author of the book, Come Retribution: The Confederate Secret Service and the Assassination of Lincoln, with co-authors Tidwell and Hall. He was a proud member of the Company of Military Historians. After retirement, he was active is his new hometown of Tappahannock (having resided in New Carrollton, MD during his career). He helped to found the Essex County Museum and contributed in many ways to local churches, including singing in the choirs.
In addition to his wife, daughter and grandson, he is survived by his brother and wife, Elliott and Sally Gaddy; nephew, Charlie Gaddy and family; niece, Barbara Turner and family and several cousins.
Funeral services were held November 25, 2015, at St. John's Episcopal Church, Tappahannock, with burial to follow in the church cemetery.
In lieu of flowers, memorial contributions may be made to the "Rebecca L. Gaddy Memorial Scholarship Fund," via check payable to UVA School of Nursing. Please reference the scholarship fund and mail to: UVA School of Nursing, Alumni & Development Office, P.O. Box 801015, Charlottesville, Va. 22908-1015.
We hope you will join us in paying tribute to David's dedicated service and help to make sure he is included in the In Memoriam Registry by making a contribution in his honor.
You can make a contribution honoring David via our secure Online Donation Page or you can mail a donation in his name to the NCMF, PO Box 1682, Ft. George G. Meade, MD 20755. Those honored in the Memoriam Registry can be seen in the listing below or viewed on the kiosk at the National Cryptologic Museum.