60 Years of Cryptologic Excellence Exhibit Honors NSA's 60th Anniversary
The NSA 60th Anniversary Invitation Only event was held at the National Cryptologic Museum on 07 November 2012 from 1400 to 1700. Guests were welcomed by the museum curator, Mr. Patrick Weadon, who introduced the keynote speaker, Mr. Chris Inglis, the Deputy Director of NSA. 
Curator Pat Weadon

NSA Deputy Director Chris Inglis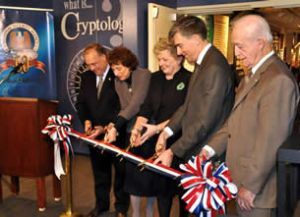 In honor of the event, the museum unveiled its newest exhibit, "60 Years of Cryptologic Excellence." The exhibit features cryptologic artifacts from 1950 through 2000 such as early computers and punch cards used in the 1950s, keying devices and field computers used in the 60's and 70's and personal encryption devices (read secure smart phones) from the 2000s. Mr. Inglis presided over the exhibit ribbon cutting. The exhibit also featured a special tribute to the 50th Anniversary of NSOC.
A special presentation in honor of the event was made possible by the Jeremy Bloom Wish of a Lifetime Foundation. Helen Nibouar and Marion Johnson, two friends who worked together on the SIGABA as cryptologists during World War II, have remained close friends through the years but caregiving obligations prevented them from seeing each other for the past 50 years. Helen made a wish through the Bloom Foundation to see her friend, and the wish was granted. Thanks to efforts of the NSA Office of Strategic Affairs and the Senior Living Corporation that partners with the Foundation, the ladies were reunited at the NSA 60th Anniversary celebration. A press release on their visit can be found in the Department of Defense News Article article.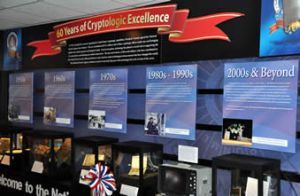 The event closed with a panel discussion by Mr. David Hatch, Mr. Norbert "Ski" Szymanowski and Mr. George Cotter reminiscing about experiences in their long and varied careers at NSA.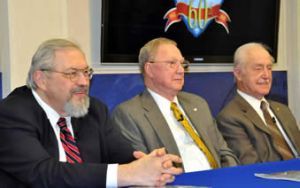 SPECIAL NOTE: When you have some time visit the NSA page on the 60th anniversary. You will find a significant number of photos and documents highlighting events from before NSA was formed through the 2000's.
Photos by John Garcia