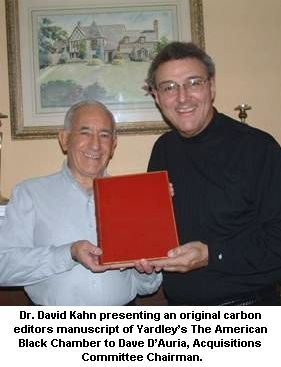 Since 2004 Dr. David Kahn has made numerous donations to the Foundation, including three prior to 2009 that comprised well over 150 boxes of personal papers, manuscripts and rare memorabilia. Among the more significant items from his earlier donations were the first book ever published on codes and ciphers; the entire set of Dr. Kahn's original manuscripts for The Codebreakers; rare advertising posters from old movies with intelligence and espionage themes; and, an old German-made hand-held cipher substitution wheel. We also received dozens of rare first edition books on cryptology, many personally inscribed by the authors to Dr. Kahn.
The centerpiece of his latest donation was an original carbon copy of Herbert Yardley's editor's manuscript for The American Black Chamber. Written in 1931 this book provided details of America's first peacetime cryptanalytic organization, MI-8, the forerunner of today's National Security Agency. Other significant items included uncorrected proof copies of Dr. Kahn's books Kahn on Codes and Hitler's Spies; numerous English and foreign language pamphlets on cryptology from the late 1800s and early 1900s; and, many commercial books and pamphlets on cryptology and secret writing written immediately before and during World War II.
A number of Dr. Kahn's donated items are on display at the NCM or available for review in the Museum Library. The picture here shows Dr. Kahn presenting his donation to Dave D'Auria, the Chairman of the Foundation's Acquisition Committee. The house in the framed picture in the background was Dr. Kahn's boyhood home. The room on the extreme left is where The Codebreakers was written.
DR. DAVID KAHN DONATIONS - THE EARLY YEARS