Event Calendar
Codes Are Criminal - an NCM 25th Anniversary Event
Wednesday, September 19, 2018 1:30 pm - 2:30 pm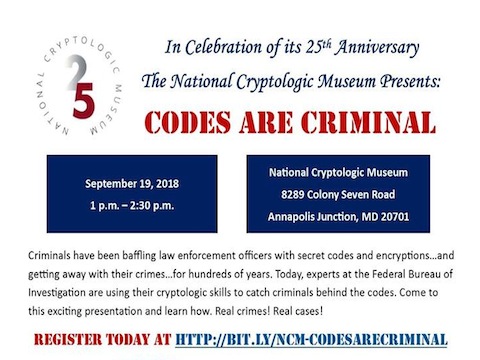 Location:
National Cryptologic Museum - pin 8289 Colony Seven Rd, Annapolis Junction, MD 20701-1005
Description:
Criminals have been baffling law enforcement officers with secret codes and encryptions…and getting away with their crimes…for hundreds of years. Today, experts at the Federal Bureau of Investigation are using their cryptologic skills to catch the criminals behind the codes. Come to this exciting presentation and learn how. Real crimes! Real cases!

The NCMF is sponsoring refreshments and event services for the museum's anniversary series.

Guest speakers include: John F. Fox, Jr., FBI historian since 2003 and Daniel Olson, Unit Chief of the FBI's Cryptanalysis and Racketeering Records Unit at the FBI Laboratory in Quantico, VA. Both speakers bring a wealth of knowledge, experience, and amazing real-life stories. Learn more about them via the event flyer linked below.

Tickets are now SOLD OUT.