Event Calendar
2018 Henry F. Schorreck Lecture Speaker Series
Friday, May 18, 2018 1:00 pm - 2:30 pm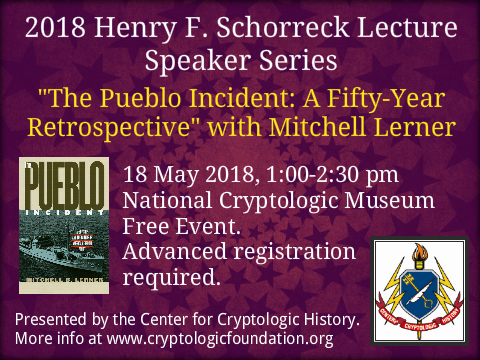 Location:
National Cryptologic Museum
Description:
The 2018 Henry F. Schorreck Lecture Speaker Series will explore"The Pueblo Incident: A Fifty-Year Retrospective" with special guest speaker Mr. Mitchell Lerner, Associate Professor of History and Director of the Institute for Korean Studies at The Ohio State University. He is the author of The Pueblo Incident: A Spy Ship and the Failure of American Foreign Policy, which won the 2002 John Lyman Book Award. (Learn more about the book via the link below.) He is also associate editor of the Journal of American-East Asian Relations.

"Remember," Rear Admiral Frank Johnson told the officers of the USS Pueblo just before they departed for their first mission, "you are not going out there to start a war." And yet, war appeared to be not far off when the spy ship was captured by North Korean forces on January 23, 1968, leaving one dead crewman and 82 other Americans held captive for a year in North Korean prison camps.

This presentation will examine this controversial incident from start to finish, and will open a window into not only American decision making but also into the perspectives of North Korea, South Korea, and the Soviet Union.

REGISTRATION: This event is free. However, a full house is anticipated and thus, advanced registration is required.
REGISTER via EventBrite.com (see link below) or contact Gjnedve@nsa.gov to reserve the desired number of seats.
The NSA-CCH will confirm registrations and answer any questions.

DIRECTIONS:Please use the link below for directions to the Museum.