Event Calendar
1960: U-2 Recon Plane Shot Down
Tuesday, May 1, 2018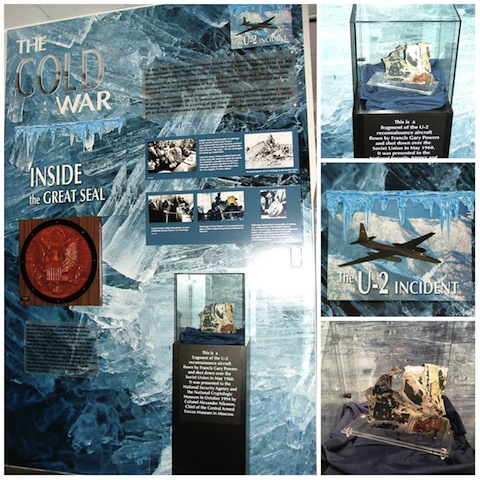 Description:
1 May 1960: U-2 recon plane piloted by Francis Gary Powers was shot down over the Soviet Union. He was held prisoner in the Soviet Union for 21 months before his release as part of a "spy exchange."

In 2012, more than 50 years after the shoot-down, Powers was posthumously awarded the Silver Star for exhibiting 'exceptional loyalty' during long & intense interrogations while being held by the KGB and the Soviet Union for nearly 2 years.

His story is told in the Cold War section of the National Cryptologic Museum. A collage of photos from the exhibit is pictured here. The exhibit includes a fragment from the U-2.

In April 2018, the National Cryptologic Museum (NCM) was honored to welcome Francis Gary Powers Jr. at the end of April 2018 when he escorted a group from Senior Outdoor Adventures in Recreation for a tour of the museum. Gary Jr. is Founder and Chairman Emeritus of The Cold War Museum in Midlothian, Virginia. (See a photo of Gary Jr. at the Museum via the link below.)

The Cold War Museum will host a table at the Armed Forces & Police Celebration at the NCM on May 19, 2018. See our Event Calendar for more details about this event.