Event Calendar
Movie Day at the Museum Featuring "National Treasure"
Saturday, April 7th - 2:30 pm & 6pm Showings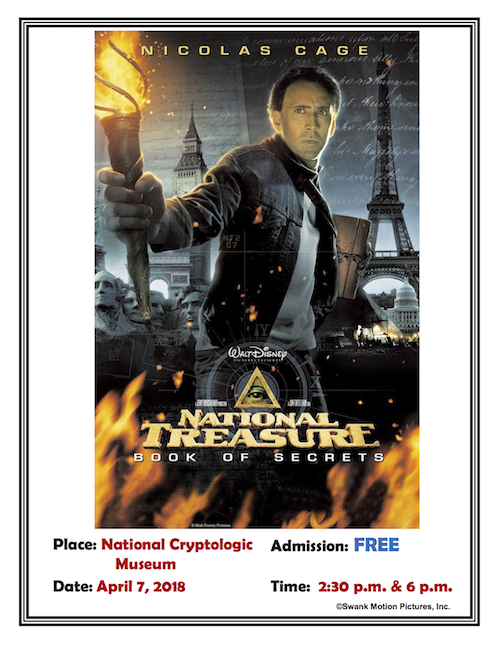 Location:
National Cryptologic Museum 8289 Colony Seven Rd. Annapolis Junction, MD 20701
Description:
The NCMF is sponsoring a Movie at the Museum day on April 7th. The movie "National Treasure - Book of Secrets" will play at 2:30 pm and 6 pm. The film is rated PG and stars Nicholas Cage.

About The Film: "When a long-missing page from the diary of assassin John Wilkes Booth suddenly resurfaces, it implicates the great-great grandfather of treasure hunter Ben Gates (Nicolas Cage) as a conspirator in Lincoln's death. Ben's globetrotting quest to prove his ancestor's innocence leads him to a closely guarded book containing the nation's deepest secrets."

The event is free to the public and will include popcorn.
**** PLEASE REGISTER FOR THE TIME YOU WOULD LIKE TO ATTEND VIA EVENTBRITE. CLICK HERE OR VIA THE LINK BELOW TO REGISTER TO ATTEND.

Come join us for an entertaining film in a perfect setting!