Event Calendar
Field Station Augsburg 2nd OPS 12th Annual Reunion
Wednesday, October 11, 2017 - Tuesday, October 17, 2017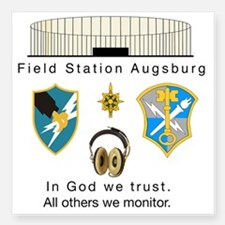 Location:
Baltimore, Maryland
Description:
The 12th Annual Augsburg 2ND Operations Battalion Reunion is being held for all US Army ASA and INSCOM veterans from 2ND Ops Bn who served at Field Station Augsburg, Germany in the 1970s - 1990s. Veterans, their spouses, significant others, and families are welcome. Veterans of 1ST Ops, 3RD Ops, Support Battalion, their successor units, and OSH, OSD, OSK, & 98C instructors are also welcome.

While each year is a special event, this year will especially be so as we join the 40th ASA Augsburg Reunion on Saturday afternoon, October 14th, at the Bavarian Brauhaus, hosted by MG(ret) Thomas Flynn.

*Special Note - On October 12-13, there will be scheduled tours at the National Cryptologic Museum for reunion participants.

Please see the full PDF with all event details, registration info, hotel information, agenda info, and even a video preview link via the links below.