Event Calendar
2017 Armed Forces & National Police Celebration
Saturday, May 20, 2017 10:00 am - 3:00 pm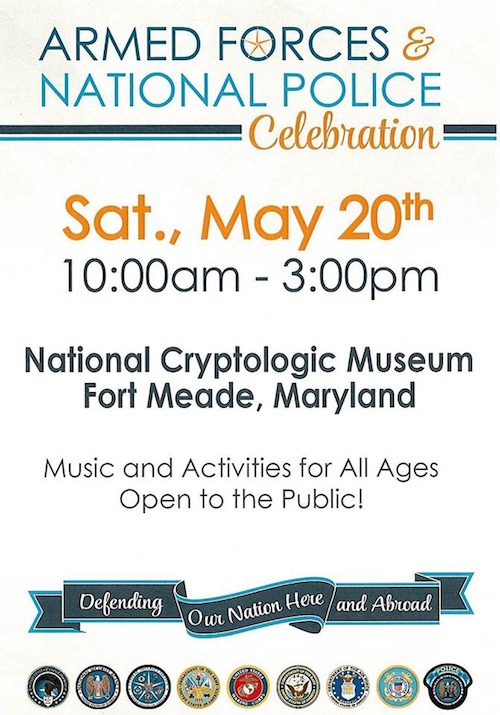 Location:
National Cryptologic Museum, 8290 Colony Seven Road, Ft. Meade, MD 20701
Description:
The National Cryptologic Museum invites all members of the community to its 5th Annual Armed Forces and Police Celebration.

Enjoy food and drinks, climb into some of the latest military and police tactical vehicles, be mesmerized by the precision of the U.S. Navy Silent Rifle Drill Team, meet our police K-9 friends, experience loads of other hands-on activities, and learn about secrets of codes and ciphers. And it's all free!

The event will feature over 20 activities and reenactments.

* The Army's WWII reenactors are bringing five WWII vintage vehicles with weapons exhibits and pup tent set up on the lawn.
* Defense Media Command is bringing a satellite truck where kids can interact and see themselves on TV.
* The police mobile command unit is bringing its 60 ft HDRU trailer.
* The MD State Canine Police will be doing demos with their dogs.
* There will be two vintage MD state police vehicles on display, a 79 Plymouth and an 83 Chevy.
* Plus many more attractions -- like the Snowball Vendor. (Snowballs are free courtesy of NCMF and Riverbank Associates!)
* AND the local chapter of Hogs and Heroes are planning to visit and their motorcycles will be on display in the parking area.

It's a perfect event for your grand kids and WWII/police buffs.