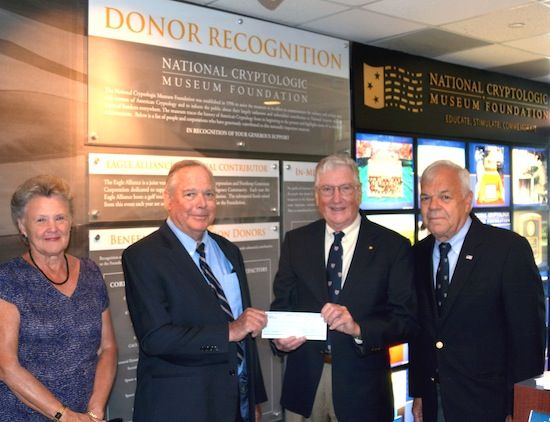 On Monday 12 September 2016, Mr. and Mrs. Roy Caracristi presented a check for $100k from the estate of Ms. Ann Caracristi to the NCMF for the new Cyber Center for Education and Innovation and home of the National Cryptologic Museum. Receiving the check were NCMF VP Mr. Orville Lewis and CCEI/NCM Chief Operating Officer Mr. Larry Castro.
Ms. Ann Caracristi was named as a Founder Emeritus for the CCEI. Learn more about the Founders' Group.
Ms. Ann Caracristi passed away in January 2016 at the age of 94 and is deeply missed. Ann's career extended from World War II through much of the Cold War. She became one of the highest ranking and most honored women at the National Security Agency. LEARN MORE ABOUT HER.