25th Anniversary Kick-Off: Virtual Panel Discussion with Six Former NSA Directors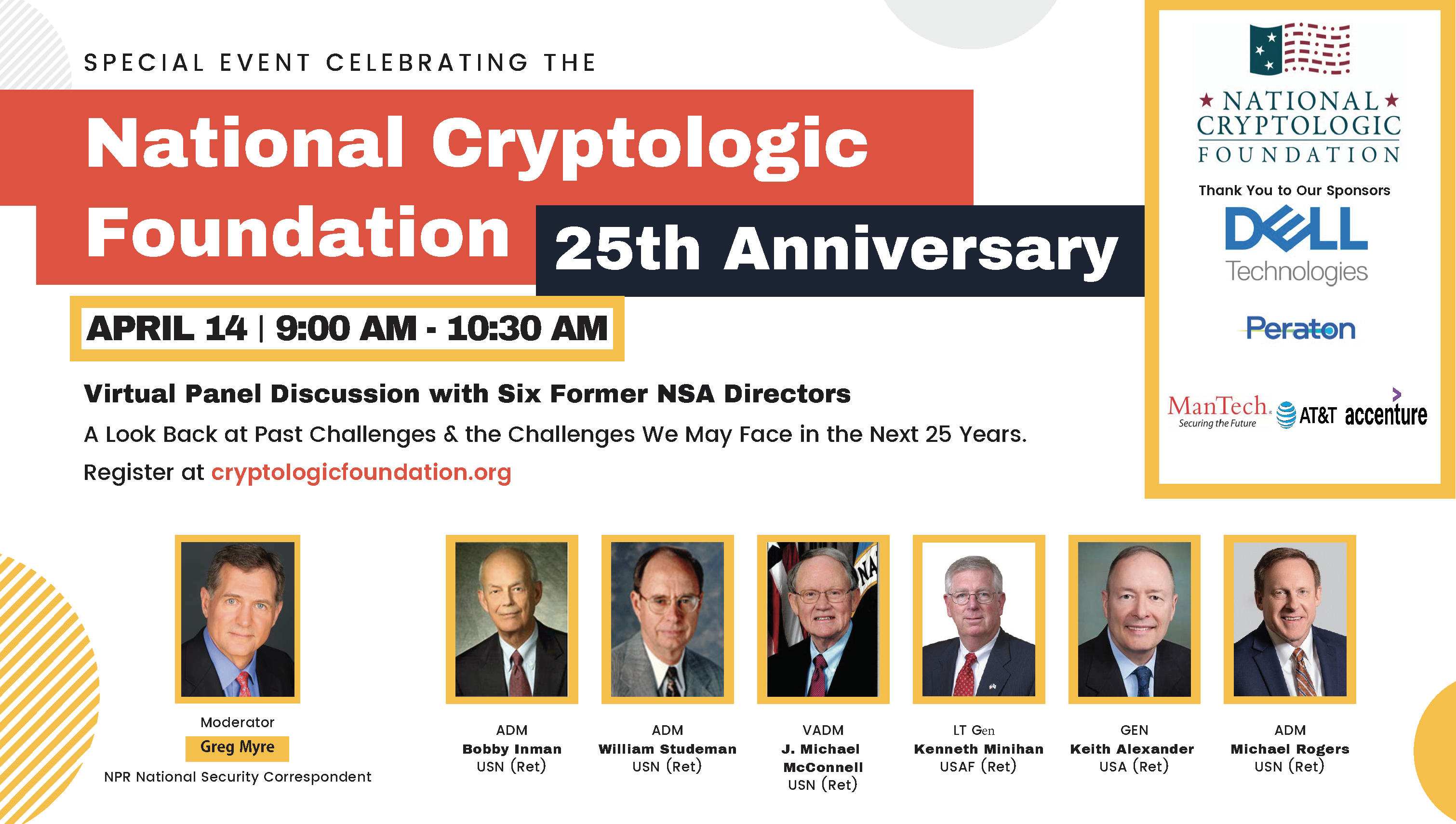 Join us for a special virtual event to kick-off our 25th Anniversary as we host a rare virtual panel discussion featuring six former NSA directors. The discussion will include an examination of the challenges our Nation has faced in the past 25 years, as well as an opportunity to explore issues we may encounter in the next 25 years. We will also consider past cryptology and cybersecurity challenges as we look to the future. You can learn more about our 25th Anniversary via the link at the end of this page.
This event is free, however, a special anniversary donation is appreciated. As we continue to dive deeper into the Education portion of our mission, donations like yours can help us to reach more students. Donations also help us to continue to offer support to the National Cryptologic Museum.
We invite you to join us live for this event; however, it will also be recorded. Stay tuned to our e-newsletter and social media for an announcement once the recording becomes available. If you are unable to attend, but would like to submit a question for our panel, send your question to ncmfinfo@cryptologicfoundation.org
Many thanks to Dell, Peraton, ManTech, AT&T, and Accenture Federal Services for sponsoring this special event. Peraton, ManTech, and Dell are also Founders' Group Donors for the project to build the Cyber Center for Education & Innovation (CCEI).
Who: National Cryptologic Foundation
What: 25th Anniversary Kick-Off Panel Discussion with Six Former NSA Directors: ADM Bobby Inman, USN (Ret); ADM William Studeman, USN (Ret); VADM J. Michael McConnell, USN (Ret); Lt Gen Kenneth Minihan, USAF (Ret); Gen Keith Alexander, USA (Ret); and ADM Michael Rogers, USN (Ret).
Moderated by: Greg Myre, National Security Correspondent, NPR.
When: 14 April 2021, 9-10:30 am EST
Where: Virtual Program - offered via Zoom webinar (login details will be provided in your confirmation email)
Cost: Free. Donations Appreciated.
REGISTRATION: CLOSED. Stay tuned for our recording.
Contact: If you have questions about this program, please email ncmfinfo@cryptologicfoundation.org
Sponsorship: For information about sponsoring this program or another event, please contact Rebecca Diamond at rdiamond@cryptologicfoundation.org