The annual Eagle Alliance hosted Crypto Cup Golf Tournament provides critical funding each year for the NCMF and the National Cryptologic Museum.
---
The 18th Annual Eagle Alliance hosted Crypto Cup Golf Tournament benefiting the NCMF was held on 28 June 2019 at the Compass Pointe Golf Course in Pasadena, MD. The day was a scorching 92 degrees and the golf was hot too! The winning team came in at 60 and the 2nd and 3rd place teams tied with a 61. The NCMF team played a respectable 68! Well done everyone. Check out a preview of photos below and learn about this year's sponsors via the link provided below. Please stay tuned for a full recap complete with photos, winner information, and fundraiser totals. Thank you to Eagle Alliance and to ALL who helped to make this day a success!
This important annual fundraiser for the NCMF is always a lot of fun for everyone involved. Just check out the photos and recaps from previous years (see links below) to see what a great day it is!
You can also learn about the history of the Crypto Cup below, as well as visit the recap pages to see golf results, fundraising totals, and great photos.
Photo Preview - Click images for larger view.... & Stay Tuned for More Pics
Thank You to ALL the Fantastic Sponsors!

Fill Out Those Raffle Tickets!

See You All Next Year!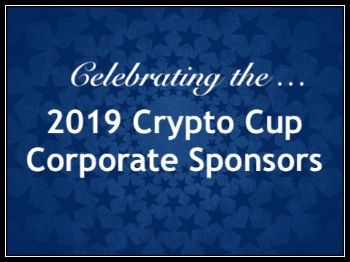 ---
HISTORY
In June 2002 Eagle Alliance sponsored its first golf tournament to benefit the NCMF. In past years, the annual Eagle Alliance tournament was dedicated to the memory of Tim Sheahan, Eagle Alliance's first Account Executive and a key contributor to the award and success of the GROUNDBREAKER Program.
The 17th tournament was held in September 2018, and the tournaments have provided over $600,000 to support NCMF operations. There is no question that without the annual contribution from this tournament there are a number of years when the NCMF would not have been able to meet its obligations in terms of support to the National Cryptologic Museum (NCM).
The winning team from each tournament is honored by a ceremony and reception at the NCM. Their names are inscribed on a plaque and they are "presented" the CRYPTOCUP trophy, which is kept on display at the NCM. Recent years have included a very popular Spy Tee-Off - see photos on the recap pages.
CRYPTO CUP RECAP PAGES