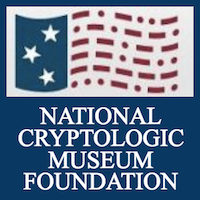 Dear Colleague and Museum Supporter,
As we approach the end of this year and the beginning of another, we prepare to celebrate the season, give gifts to special people/organizations, and make resolutions. We hope that you will make a resolution to include the National Cryptologic Museum Foundation on your end-of-year gift list. We continue to rely upon your financial support for the Foundation as we move forward to keep the public apprised of the exciting, and critically important, world of cyber and cryptology.
We're asking for your financial support to ensure that the Foundation can continue to assist the National Cryptologic Museum (NCM) by funding the acquisition of artifacts and memorabilia for gallery displays, supporting educational programs and displays, obtaining rare books and collections for its library that explain the role of cryptology in war and peace, commemorating cryptologic heroes of the signals intelligence and information assurance services, and sponsoring quarterly cryptologic programs for the public. Your donation will allow us to continue to share these wonderful stories and enhance educational and community outreach programs as well.
This is a very exciting time for Foundation members. We are very pleased to report that the Museum's first cyber exhibit, sponsored by the Foundation, opened this summer in the newly renovated Information Assurance Gallery. The exhibit features the Magic Planet, a large globe programmed with information on the importance of cyber security. It is a wonderful interactive educational exhibit for visitors of all ages.
Again, thank you for your continued support, and we hope you'll consider making a tax-deductible donation to the Foundation; a non-profit 501(c)(3) created in 1996 to support the NCM. Let's keep this National heritage alive and educate the public through exhibits and programs at OUR museum!
Thank you for your consideration,
Richard C. Schaeffer, Jr.
President