"Sweetheart Codes" Exhibit at NCM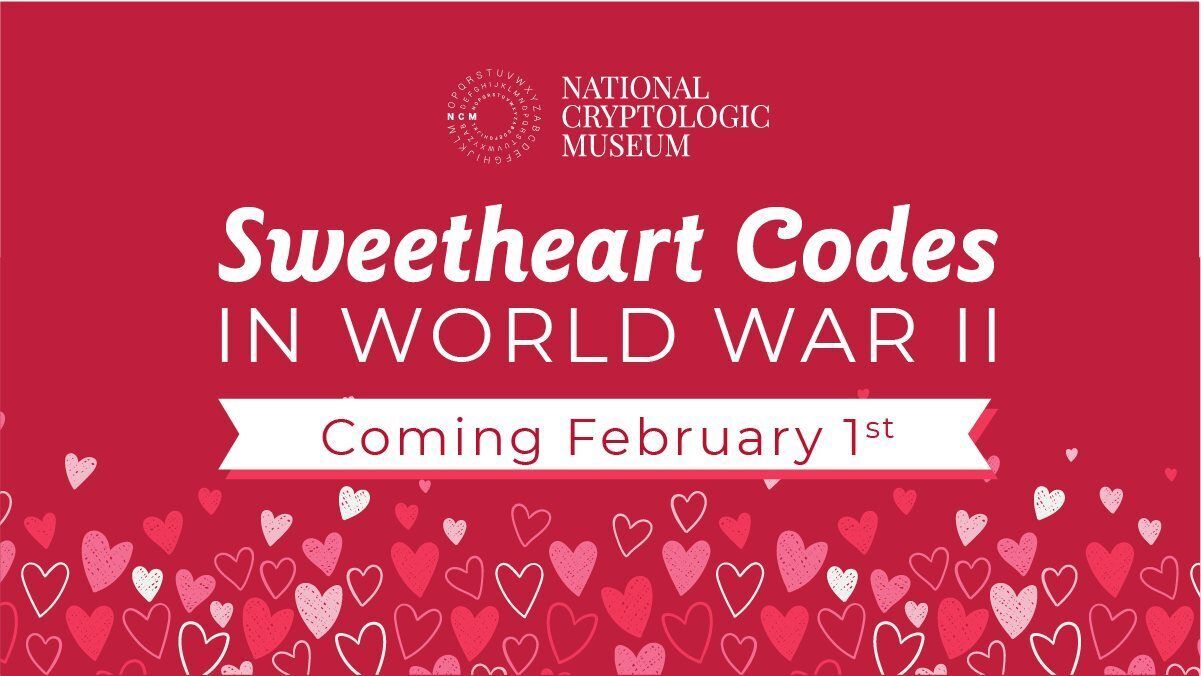 What's love got to do with…codes? Find out starting February 1, when the National Cryptologic Museum (NCM) opens its new temporary exhibit focused on Sweetheart Codes in World War II. Postal mail was heavily censored during WWII. Soldiers used codes to send messages home to their sweethearts that included information that would have been censored, plus personal messages they didn't want others reading. This exhibit is open through the end of March.
Admission: Admission is Free. No reservation or ticket required.
National Cryptologic Museum Hours:
SUNDAY Closed
MONDAY Closed
TUESDAY 10:00am — 4:00pm
WEDNESDAY 10:00am — 7:00pm
THURSDAY 10:00am — 4:00pm
FRIDAY 10:00am — 4:00pm
SATURDAY 10:00am — 4:00pm
For further information, please contact NSA Public Affairs NSA Public Affairs at 443-634-0721. You can also send an email to: MediaRelations@nsa.gov.
Learn More from the NCM Press Release below:
Secret Messages fly between lovers in a world consumed by war: National Cryptologic Museum unveils temporary Valentine's Day exhibit.
Trying to evade the prying eyes of the Allied postal censors of WWII, U.S. service men and women created secret messages, referred to as Sweetheart Codes, to convey their most intimate feelings to one another.
Determined to express their inner most personal thoughts – sometimes in the most passionate of terms - these war-torn lovers employed previously agreed upon cipher systems to help keep their most romantic thoughts hidden from the government censors.
The National Cryptologic Museum is pleased to offer this Valentine's Day salute - Sweetheart Codes – featuring historic coded love letters from WWII. The program will run from 1 Feb to 31 March 2023. Come visit us to get an inside glimpse of the Greatest Generation's encoded letters of love.
Located at the edge of the National Security Agency (NSA) in Ft. Meade, Maryland, the National Cryptologic Museum provides visitors a unique opportunity to engage with cryptologic history in new and innovative ways — transporting visitors on a journey from the ancient world to present day exploring the dynamic role of cryptology in shaping our history.
As NSA's principal gateway to the public, the museum collects, preserves, and showcases unique cryptologic treasures and strives to serve as a valued cryptologic history resource for scholars, historians, and educators. The museum provides quality educational programming to share the stories of the people, technology, and methods that have defined cryptologic history, and serves as a dedicated research setting for scholars and the general public.