NCMF Virtual Program: American Codebreakers at Bletchley Park, 1941-1945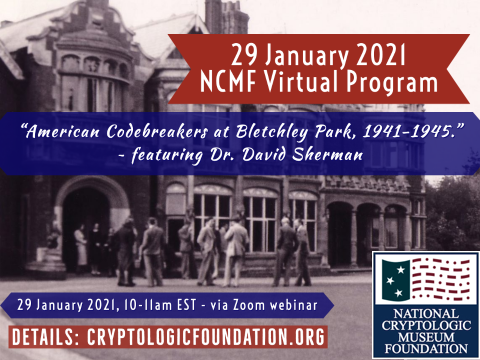 SAVE THE DATE and join us on Friday, 29 January at 10am EST for our first virtual program of 2021, "American Codebreakers at Bletchley Park," to be held via Zoom.
Dr. David Sherman will discuss a secret February 1941 U.S. visit to Britain's wartime codebreaking center and how it set the stage for the enduring partnership that emerged after World War II, a partnership often called the closest and most important relationship in the history of intelligence. His monograph on the 1941 mission, The First Americans, is available online from the Center for Cryptologic History. See the link below to view or download the PDF of the monograph.
The virtual program will be free. To register, please click the red "Register Now" button located on this page. During the week prior to the program you will receive an email with details about accessing the program. If you cannot attend live and wish to be notified about the program recording once available, please CLICK HERE.
Once spots for our live presentation have filled up, registration will automatically close. However, if you would like to sign up to be notified once the recording of the program is available please CLICK HERE.
About the Speaker
Dr. David Sherman retired from the Federal Government's Senior Executive Service in 2017. He served for 32 years at the National Security Agency, where he held a variety of managerial, analytic, and staff positions. He also held positions on the staffs of the National Security Council and National Economic Council and represented NSA to the Office of the Secretary of Defense and the Joint Chiefs of Staff. He was Dean of Academic Programs and Visiting Professor at the National War College from 2007 to 2010. Prior to joining the government, he was Adjunct Faculty at Cornell University where he taught for four years.
Dr. Sherman is a member of the Board of Directors of the North American Society for Intelligence History and advises the National Cryptologic Museum on its collections and exhibits.
Dr. Sherman holds the following degrees:
Doctor of Philosophy, Cornell University, 1985
Diploma, Alexander S. Pushkin Institute of the Russian Language, 1983
Master of Arts, Cornell University, 1980
Bachelor of Arts, Duke University, 1977
Please visit our Quarterly Cryptologic Programs page to learn about our speaker's publications and prior presentations.