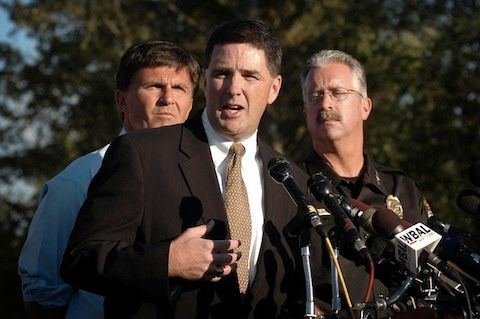 FBI Special Agent Kevin Perkins will be a guest speaker/expert panelist at the NCMF 18th General Membership Meeting and Annual Symposium. The Panel will feature a notable panel of local law enforcement officials who will offer their perspective on protecting Maryland's citizens, property, and information in the wake of terrorism and domestic unrest. Mr. Perkins was featured in the Washington Post National Security section on 10 September 2016. CLICK HERE to learn more about the October program and expert panel. Read more about Mr. Perkins below.....
FBI agent climbed the ranks but chose to end his career back in a field office
by Ellen Nakeahima, National Security writer for the Washington Post
September 10, 2016
Read the FULL ARTICLE online
Photo info: FBI Special Agent Kevin Perkins, center, backed by Maryland Gov. Robert L. Ehrlich Jr., left, and Maryland Transportation Authority Police Chief Gary McLhinney, addresses the media in Baltimore in 2005. (André F. Chung/Baltimore Sun via AP)
"BALTIMORE — Kevin Perkins, a 30-year-veteran of the FBI, says he's lucky to have been shaped by "two different organizations" — the old-school bureau of J. Edgar Hoover and the one that grew out of the horrific terrorist attacks of Sept. 11.
The 2001 al-Qaeda assault changed the FBI into the agency we know today, focused not only on busting crime but also on using intelligence to prevent terrorist attacks.
It also marked the midway point of Perkins's 30-year career that took him from investigating banking fraud in the 1980s to running the bureau's criminal investigative division to serving as associate deputy director — the third-highest ranking official. And finally, to reassuming the leadership of the Baltimore field office.
"The guys who taught me the ropes in the mid-'80s had all been hired by Hoover, working everything from bank robberies to Cosa Nostra and Mafia cases," he said. When he reached the management ranks, he said, "I had a front-row seat as a straphanger, sitting and watching bureau leadership make decisions after 9/11."
Said Perkins: "It was really neat to have a foot in each side of that organization."
A stocky 56-year-old who competes in triathlons, Perkins is set to retire this month.
He reflected on his career in a recent interview in his office adorned with mementos he holds dear — a copy of President Abraham Lincoln's Gettysburg Address under his blotter alongside a copy of the Rev. Martin Luther King Jr.'s "I Have a Dream" speech; a football autographed by Johnny Unitas and a baseball signed by his childhood hero, Pittsburgh Pirates right-fielder Roberto Clemente. There's also a 1960s hard-sided, tear-gas canister case that his agents gave him.
In the aftermath of the attacks 15 years ago, he was a section chief in the Inspection Division, responsible for dealing with external oversight bodies, such as the Justice Department's Office of the Inspector General. But in the crisis, it was all hands on deck. Perkins got handed what became the terrorist "no-fly" list.
The country was in shock. Commercial flights were grounded. Intelligence officials feared a second wave of hijackings. President George W. Bush's administration was eager to get planes flying again, and the FBI was asked to draw up a list to vet passengers for terrorism connections.
The list, at one point, had hundreds of names on it. "I was uncomfortable," Perkins recalled after seeing it. Three thousand people were dead in the attacks, and he knew the country was willing to accept extreme measures out of fear.
"The pendulum had swung way to the right," he said. "But I knew, in six months to a year, that pendulum would swing back. There would be questions asked about what we did and why."
He recruited bureau lawyers to develop guidelines for placing names on the list. He also noticed a number of people had been included merely because their names sounded like those of individuals who had a connection to terrorism. He sought to get them off, including 20 men of Arab ancestry who an FBI field office had erroneously reported had attended the same flight school as the hijackers.
Within weeks, Perkins had reduced the watch list to 20 to 30 names, 19 of which were the names used by the hijackers, he told the Justice Department's Office of the Inspector General, which described his actions in a 2003 report.
"He saw a problem and instead of being defensive, he quickly addressed it," said former Justice Department Inspector General Glenn A. Fine. "He was an effective advocate for the FBI."
The watch list itself has grown over the years and has drawn criticism. It has prompted lawsuits from citizens who say they were unjustly added, causing them problems when they try to cross borders or wire money.
Perkins relinquished control of the list after six weeks. He said that the FBI's Terrorist Screening Center, which maintains the watch list today, has established policies to protect privacy and civil liberties and resolve complaints.
In his two stints as special agent in charge in Baltimore, and especially over the past year, Perkins reached out to the Muslim community. There was a different vibe to him than other FBI agents, who were more button-down, said Rizwan Siddiqi, president of the United Maryland Muslim Council, a state-level group that oversees local Muslim organizations.
"What I like about him is he came out not as an FBI agent, but as a person, just like you and me," Siddiqi said.
Perkins regularly attended community functions, once at Siddiqi's house, once at a Ramadan interfaith event. He brought in his staff and offered their services.
"He tried very hard to connect our community with the FBI," Siddiqi said. "People have a little bit of fear about the FBI, the CIA, and these agencies are not really perceived as friends. But Kevin really broke that barrier."
There is a slight Forrest Gump-like quality to Perkins's life.
He was present in senior-level meetings when then-Director Robert S. Mueller III, who took up his post the week before 9/11, discussed how to respond to the terrorist attacks with Bush administration officials, including Vice President Richard B. Cheney and national security adviser Condoleezza Rice.
He was an inspector at headquarters in 2001 when an agent he hadn't seen in years stopped in. Perkins couldn't remember his name. They had worked an international money-laundering case together in the 1990s, and so he sneaked a look at his badge: "Bob." That jogged his memory: It was Robert Hanssen.
A week later, driving to work, he heard on the radio that the FBI had arrested a spy within its midst. It was Hanssen. "I nearly drove the car into a post," he said.
Perkins, an accountant by training who got his start as an agent in Kansas City, Mo., also served as the bureau's chief financial officer, presiding over a ballooning budget after 2001. Then as associate deputy director, he oversaw the bureau's budget, facilities and security at a time of sequestration.
After three years — and with a new director, James B. Comey, at the helm — Perkins decided it was time to let Comey build his own team. Then last year, the head of the Baltimore field office, Stephen Vogt, retired.
Perkins, who wanted to be an agent since he was 4, saw an opportunity. Howard County, outside Baltimore, has been home since 1991. It's where he and his wife raised their two daughters.
"I've led a very charmed life," he said. "I wanted to go out as I came in — as an FBI agent, conducting investigations or running an office that conducts investigations. To be able to retire doing what it is that the FBI does, I couldn't ask for more."
Read the article on the Washington Post site....
Return to our HOME PAGE
Visit the Cryptologic Bytes archives via the "Return to List" link below..