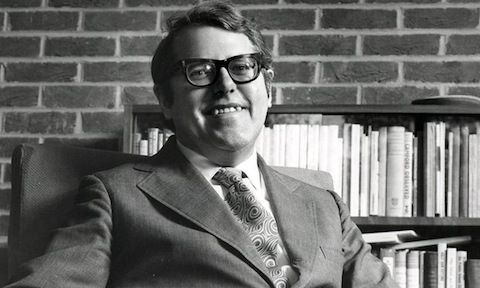 From "The Guardian"
March 15, 2016 by Nigel Jones
View the full article with additional photos and video clips.
Asa Briggs Obituary
Asa Briggs served as a codebreaker at Bletchley Park during the second world war alongside Alan Turing.
Photo of Asa Briggs: Sussex University/PA
The social historian and educationist Asa Briggs, who has died aged 94 (15 March 2016), was one of the last survivors of a wartime generation who not only wrote groundbreaking works but helped to make history themselves. As he detailed in two late volumes of autobiography, Secret Days: Code-breaking at Bletchley Park (2011) and Special Relationships (2012), written in his ninth decade, Briggs was one of the Oxbridge brains recruited in secrecy to work at Bletchley Park, the Buckinghamshire country house devoted to cracking German wartime codes. Working in Bletchley's Hut 6, Briggs, the youngest warrant officer in the British army – "It entitled me to wear a peaked cap and draw a captain's pay" – worked alongside Alan Turing, mathematician of genius and computer pioneer......
.....Briggs was spotted by a college contemporary, Howard Smith, a mathematician with whom Briggs played chess, who was to become head of MI5 in the 1970s. Smith recommended him to Gordon Welchman, another Cambridge mathematician, the head of Hut 6, responsible for breaking Germany's army and Luftwaffe ciphers at Bletchley Park. Recruited by the Intelligence Corps, in 1942 Briggs found himself among the country's brightest brains at Bletchley, where he was enchanted by the spirit of equality that prevailed, "except for Turing, whom we all deferred to because he was clearly a genius."
Turing was among the first of the great and the good with whom Briggs spent his long life rubbing shoulders. His friends and contacts reflected the broad span of his interests, from Winston Churchill, whose History of the English-Speaking Peoples Briggs proofread as a young don, to Chairman Mao's loyal lieutenant Zhou Enlai and J Robert Oppenheimer, father of the atom bomb. Friends and neighbours nearer Briggs's Sussex home included former prime ministers Harold Macmillan and James Callaghan, and fellow peer Denis Healey, whom Briggs thought would have made a better prime minister than any of them......
Read the full article on TheGuardian.com and see photos and a video interview of Asa Briggs regarding his autobiography about working at Bletchley Park.
Return to our HOME PAGE
Visit the Cryptologic Bytes Archive via the "Return to List" link below.