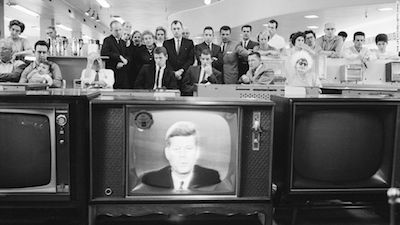 On September 16, 2015, the Central Intelligence Agency released roughly 2,500 previously classified President's Daily Briefs (PDBs) from the John F. Kennedy and Lyndon B. Johnson administrations at a public symposium at the LBJ Presidential Library in Austin, TX. This 40-page color booklet entitled "The President's Daily Brief: Delivering Intelligence to the First Customer," describes the documents and the PDB process during this period.
The PDB contains intelligence analysis on key national security issues for the President and other senior policymakers. Only the President, the Vice President, and a select group of officials designated by the President receive the briefing, which represents the Intelligence Community's best insights on issues the President must confront when dealing with threats as well as opportunities related to our national security.
For several years, CIA information management officers have worked with their counterparts at the National Security Council and the Office of the Director of National Intelligence on the review and declassification of these documents. Roughly 80 percent of the collection has been declassified and is being made available to the public.
These documents offer insight on intelligence that informed presidential decisions during critical historical events such as:
- Cuban Missile Crisis
- Six-Day War
- USSR invasion of Czechoslovakia
- Vietnam
Visit the CIA.gov site for all the details, to download a PDF of the booklet, and to see a video of the release event.
You may also be interested in this CNN.com article "CIA declassifies trove of top-secret documents," by Jennifer Rizzo regarding the release of documents. Photo included here is from the CNN article.
Return to our Home Page.
Visit the Cryptologic Bytes Archives via the "Return to List" link below.