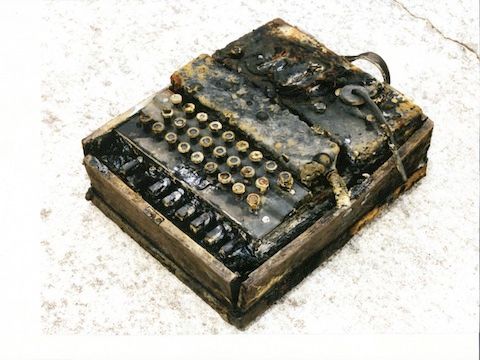 Photo by Jim Bunch of Enigma machine recovered from sunken U-85 off coast of NC.
On April 10-11, 2015 veteran diver and author Jim Bunch will give a lecture at the Graveyard of the Atlantic Museum in the Outer Banks, NC about the U-85 Nazi submarine and the Enigma machine he helped to recover from the sunken wreckage of the U-85 in 2001. His talk will be part of a salute to the diving pioneers.
Bunch began to explore the sunken U-85 in the 1970s and did over 1,000 dives in 30 years, mostly covering the exterior of the wreckage. When he and fellow divers finally entered the vessel, they found the Enigma buried in the radio room under several feet of muck that fortunately helped to preserve it from the damaging effects of salt and oxygen. The machine was recovered approximately 100 feet of water about 15 miles from the Oregon Inlet.
Bunch later published a book, "Germany's U-85, A Shadow in the Sea" about the vessel, its crew, the sinking and how a team of divers recovered artifacts in 2001. Although several different government agencies wanted to have the recovered Enigma machine, it was donated to the Graveyard of the Atlantic Museum. It will be a part of an upcoming exhibit focused on submarine warfare off the Outer Banks coast.
Learn more via the Virginian-Pilot article about Bunch and the recovered Enigma.
Return to our HOME PAGE.
Visit the Cryptologic Bytes Archives via the "Return to List" link below.