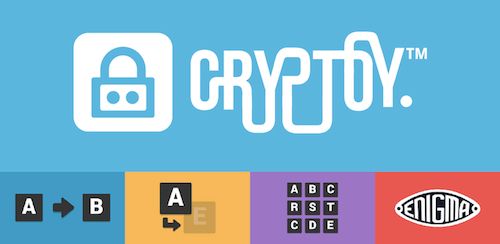 If you can visit the NSA's National Cryptologic Museum in Ft. Meade, Maryland, you and your kids or students can enjoy two fun and challenging cipher and code-related game kiosks while surrounded by the Museum's intriguing exhibits. Learn more about the Cipher Express and Cryptogram game kiosks. Or an online alternative to the kiosks is the NSA Cryptokids site for games and information about ciphers and codes.
However, if you are looking for a educational App about cryptography, you might be interested in giving the GCHQ's new App, "Cryptoy" a look.
Cryptoy is a fun, free, educational app about cryptography, designed by GCHQ for use by secondary school students and their teachers.
The app enables users to understand basic encryption techniques, learn about their history and then create their own encoded messages. These can then be shared with friends via social media or more traditional means and the recipients can use the app to try to decipher the messages.
Incidentally, the app was designed by students on an industrial year placement at GCHQ.
Here is what Robert Hannigan, Director GCHQ, made the following remarks about the new App, "Building maths and cyber skills in the younger generation is essential for maintaining the cyber security of the UK and growing a vibrant digital economy. That is why I am keen for GCHQ to give something back through its work with school and universities.
"In particular, the Cryptoy app is a colourful, interactive way for students and their teachers to explore the fascinating world of cryptography. The app was developed by GCHQ's industrial placement students and trialled at a number of science fairs. I hope it will inspire further study of this key topic, which has played such an important part in our past and is an invaluable part of our future."
The Cryptoy app is currently available for download free-of-charge to Android tablets only. It is hoped that an iOS version for iPads will be available in 2015.
Learn more about the CrypToy App.
Return to our Home Page.
Click below on Return to List to go to the Cryptologic Bytes Archives page for more articles.