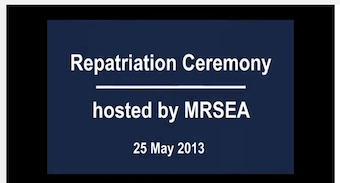 On February 5, 1969 an EC-47Q code named CAP-72 left Plieku in South Vietnam on a reconnaissance mission with 10 crewman aboard and did not return. The crash site was visited by a Security Recovery Team that recovered 30 pounds of the possible 200 lbs of skeletal mass. The mortuary said there were only seven accounted for and there needed to be a return to the crash site to achieve a "Maximum Recovery." When the remains reached Dover, Delaware's mortuary, the accounting of remains was listed as only five. These remains were interred at Jefferson Barracks in 1969 and a headstone listed the names of all 10 crewmen.
In 1995 JTF-FA (now JPAC) stumbled on the crash site and thought they had found a new previously unknown crash site. They found the dog tag of the copilot of the EC-47 and more remains of the crew were recovered from the test pits. Another excavation of the site was scheduled for 1996. The remains recovered in 1995 are now either at Hickam AFB, HI or on their way to Offut AFB, NE for DNA analysis.
Maximum Recovery in South East Asia (MRSEA), led by the son of one of the crewman, took ownership of driving the accounting for the crew of the EC-47Q and a Search and Recovery Mission was executed in December 2012 to Southern Laos. It was during this mission when more remains of the crew were recovered and returned to the United States.
These remains were repatriated on May 25, 2013 in Olive Branch, MS. This event was open to the general public to experience this seldom seen and memorable ceremony to honor and remember these heroes who made the supreme sacrifice for the liberties we enjoy.
Larry Tart has produced a video of the May 25 repatriation ceremony which can be viewed on youtube.
The remains buried at Jefferson Barracks National Cemetery in Missouri were disinterred in February 2013 for DNA testing to try to determine which of the crew had been returned home.
The five USAFSS members of the crew have been honored by their names being placed on NSA's Memorial Wall.
UPDATE AS OF SEPTEMBER 2014
All five of the USAFSS members of the crew have been identified and their families are making interment plans. Two of the TEWS Crew Members were also identified (Niggle and Olson). The three remaining Crew Members (Lynn, Burke, and Hatton) were not identified, but Burke has an accounting with a 1995 location of his identification tag at the crash site.
The MRSEA team has also undertaken a search for American POWs who were left behind after the American withdrawal from Laos in 1973. This is the first non-governmental search for these men and it is very likely it will be the last. There is a document on the MRSEA Facebook page that describes the 1982-83 movement of "Foreign Prisoners" to Attapu Province so they can be "put away." Tidslinjebilleder - M R S E A: Maximum Recovery in Southeast Asia | Facebook