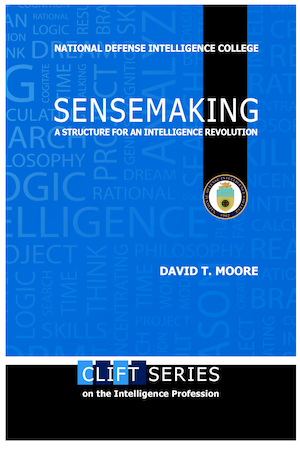 Sensemaking is the inaugural book in a new NDIC Press series titled, "The A. Denis Clift Series on the Intelligence Profession." The Clift Series will present original research on intelligence analysis and the teaching of intelligence.
In 2009, A. Denis Clift concluded a 50-year career with the federal government. Clift was president of the National Defense Intelligence College from 1994 to 2009 and was instrumental in creating the Center for Strategic Intelligence Research, which houses the NDIC Press.
Sensemaking disaggregates, synthesizes, interprets, and communicates multiple perspectives of events, always entertaining new hypotheses, and all against the recognition that dramatic failure (or success) might occur at any moment. This bold, new proposal to make sensemaking a cornerstone for the improvement of Community intelligence practice makes an extraordinary contribution to the literature of intelligence.
Everyone may download a free electronic copy of this book from the Cryptome.org Web site. U.S. government employees may request a complimentary copy of this book by email at press@ndic.edu. The general public may purchase a copy from the Government Printing Office (GPO).