NCMF 2020 Summer Cryptologic Program Featuring Mr. Seth Jones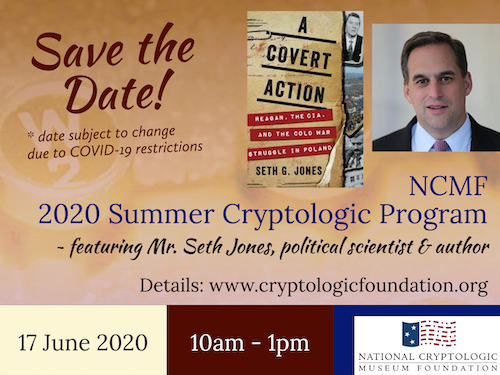 The NCMF Summer 2020 Program is scheduled for 17 June (subject to change based upon COVID-19 related restrictions) and will feature political scientist and author Mr. Seth Jones as our special guest speaker. Jones is currently a senior advisor at the Center for Strategic and International Studies (CSIS) in Washington, DC. His most recent book, A Covert Action: Reagan, the CIA, and the Cold War Struggle in Poland details the dramatic untold story of one of the CIA's most successful intelligence operations during the Cold War, which has important implications for today's threat from Russia.
Additional books authored by Jones are: Waging Insurgent Warfare; Hunting in the Shadows: The Pursuit of al QA'ida after 9/11; and In the Graveyard of Empires: America's War in Afghanistan.
Please stay tuned for more information about the program and for the opening of registration.
REGISTRATION INFO
Registration for the 17 June program is not yet open, but the fee includes lunch and is $25 for members and guests. For your convenience, we will offer easy online registration.
You may also mail-in your registration fee using the Flyer/Registration form (coming soon). Please mail checks to NCMF - P.O. Box 1682 Fort George G. Meade, Maryland 20755-9998, and include the names of all registrants. For more details, please call the NCMF office at 301-688-5436.
***** Are you a member of a book club, affinity group or other social/ retirement communities? We hope you will let your friends and neighbors know about our programs which feature experts on a variety of interesting topics. Help us to spread the word by posting one of our program event flyers on bulletin boards or other prominent places. If you do not receive a flyer by mail, you can download a PDF version (stay tuned for it to be available on our website). We look forward to seeing you and your friends at our events.