NCM Virtual Event: Crypto Trivia Night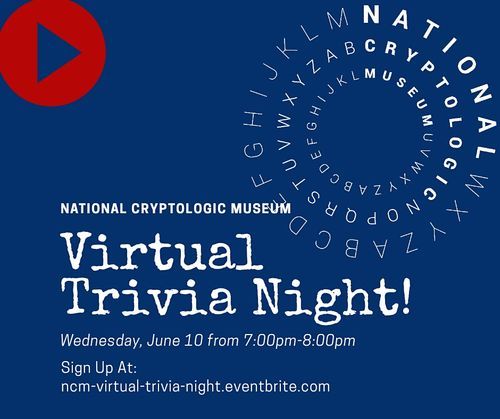 The National Cryptologic Museum is excited to announce its first ever Virtual Trivia Night! A great opportunity to test your cryptologic and historical knowledge. Gather up friends and family and join us for some true HISTORIC fun!
*You must have good internet access to participate; we recommend using your computer, not phone.
*8 team limit; 5 members or less per team.
STEP 1: Text or call your friends and family and gather a team of 5 people or less. (We encourage family households of all ages to participate).
STEP 2: Designate a Team Captain and pick a Team Name! The Team Captain will be in charge of answering for the team. A Team Name will differentiate all teams from each other for the host.
STEP 3: REGISTER on the EVENTBRITE page (link is below). Each registration should be by team only with the Team Name. Please put the Team Name in the First Name block and the Team Captain first and last name in the Last Name block.
STEP 4: The host will send each Team Captain an email with instructions 15 minutes beforehand.