NCMF 2019 Membership Meeting & Annual Symposium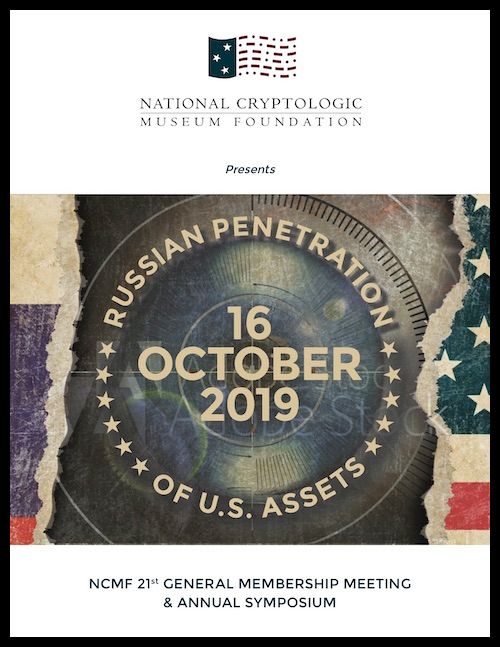 The Annual NCMF General Membership Meeting & Cryptologic Symposium will be held from 9am to 3pm on 16 October 2019 at the JHU/APL Kossiakoff Center, 11100 John Hopkins Road, Laurel, MD 20723-6099. See below for details about the program and speakers. A link to the agenda is located at the end of the page.
SYMPOSIUM SNAPSHOT: RUSSIAN PENETRATION OF U.S. ASSETS
The NCMF symposium this year will feature an exposé of Soviet and Russian active measures to engage in political warfare and to conduct espionage against the U.S. and others using close access and other means. Among the speakers are Dr. John Lenczowski, Dr. Terry Thompson, Dr. Eric Haseltine, Charles Gandy, Jerry Roddy, and James Gosler, all of whom were directly involved in working to thwart these security threats. In addition, the program includes information about NCMF and museum activities as well as an update on the new museum project.
SPEAKERS:
Please CLICK HERE to see bio information, as well as presentation details for our speakers.
DR. JOHN LENCZOWSKI - Former Director of European and Soviet Affairs for the National Security Council and the Founder and President of the Institute of World Politics, presenting Russian and Chinese Information Warfare.
DR. TERRY THOMPSON - Former NCR Defense and NSA Assistant Director for Support Services, presenting Russia's Internet Research Agency Thanks You for Your Support.
DR. ERIC HASELTINE - Former Director of Research at NSA and
MR. CHARLES GANDY - Former NSA Cryptologic Legend, presenting The Spy in Moscow Station.
MR. JERRY RODDY - Former NSA Senior Technical Leader, presenting Project GUNMAN, The Investigation that Reshaped the Field of Counterintelligence.
MR. JAMES GOSLER - Former Director of CIA's Clandestine Information Technology Office and Senior Fellow at JHU/APL presenting Clandestine Information Technology & Vulnerability Assessments.
REGISTRATION COST
Fee includes breakfast (8:15 a.m. - 9:00 a.m.) and lunch (Noon - 1:00 p.m.). $25 Members, $50 Guests (guest fee includes 1 year NCMF basic membership). Registration is now closed.
ADDITIONAL PROGRAMS
***CCH Symposium 2019 - Remember, this year the Symposium on Cryptologic History will take place on 17-18 October and registration for this event is separate from the NCMF program. Please consider registering for both events and enjoying 3 full days of cryptology and cybersecurity. See the NCMF event calendar and Educate section for information about the CCH Symposium.
HELP US PROMOTE OUR PROGRAMS: The NCMF seeks volunteers to help publicize the cryptologic programs we sponsor throughout the year. If you live in a retirement community, belong to a senior center, and/or visit other public places where events can be posted, please consider helping us spread the word. You can download event flyers from our website (current program flyer is available via the download link below). We can also send flyers via post or e-mail, or make them available at the foundation office. Please e-mail cryptmf@aol.com if you are able to help. We encourage you to tell friends and family about these interesting and valuable programs.
Learn about previous annual meeting programs via the link below.