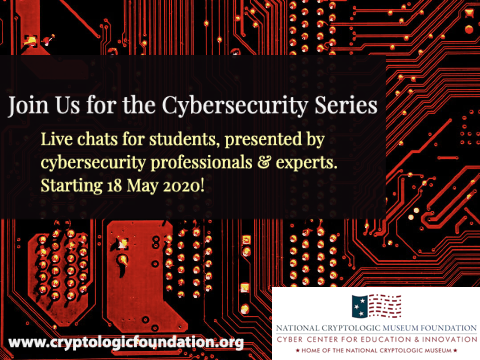 On May 18, 2020, the NCMF began a four-week Cybersecurity Series to present #CyberChats for middle and high school students, educators, and parents, with our virtual education partner NEPRIS. Our speakers are cybersecurity professionals and subject matter experts and include NCMF-CCEI Founders, BoD members, retired NSA employees, industry executives, current and recent college graduate students, former military personnel, and professionals recruited through our website, professional associations, organizations, and by word of mouth.
We continue to introduce ourselves as a trusted resource for K-12 cybersecurity education content to an ever-growing audience. Our goal is for the Series to provide engaging, challenging, entertaining, and thought-provoking educational cybersecurity content to students, educators, and parents during this pandemic. Initial feedback is very positive and complimentary of session topics and speaker experience.  
As the Series continues - please check out the SCHEDULE. And we hope you will consider joining us live or watch for recordings to become available. Easily register to attend any of the sessions via the NCMF/CCEI-Nepris page (see link on the Schedule page). Please also consider sharing the above page with family, friends, neighbors, faith-based community, and other groups and organizations.
Thank you and we hope to see you online at an upcoming session!