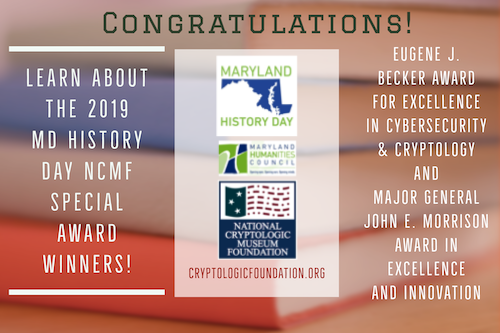 The NCMF is proud to announce the 2019 recipients of the NCMF's Special Awards for the Maryland Humanities Council's 2019 MD History Day Contest. The theme for Maryland History Day this year was "Triumph and Tragedy." Each year the students continue to impress us with their appreciation for the value of history, their thorough understanding of advanced concepts, and their interest in pursuing new ideas and innovation.
This year was the first year to award the Eugene J. Becker Award for Excellence in Cybersecurity & Cryptology. The Foundation was deeply saddened to lose Gene in 2018, but he will always be remembered. Gene's family and friends made generous donations in his name so that this special educational award could be created in honor of Gene and his distinguished career. Learn about the 2019 Award Winners.
The Major General John E. Morrison Award in Excellence and Innovation recognizes outstanding projects that address topics of science and technology. Learn about the 2019 Award Winners.
The MD History Day Contest is sponsored each year by the MD Humanities Council. The NCMF is honored each year to sponsor special awards at the competition. Junior and Senior division students receive awards and have the opportunity to display their work at the NCM. See a full listing of the 2019 MD History Day contest winners.