NCF - 25th Anniversary Special Kick-Off
Virtual Panel Discussion with Six Former NSA Directors
April 14th at 9am EST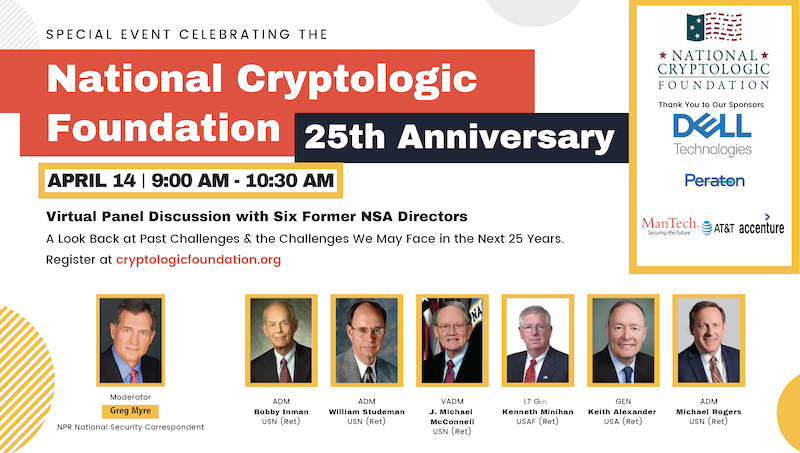 On 14 April 2021, the Foundation hosted a special virtual event to kick-off our 25th Anniversary with a rare virtual panel discussion featuring six former NSA directors. The discussion included an examination of the challenges our Nation has faced in the past 25 years, as well as an exploration of issues we may encounter in the next 25 years - particularly related to cybersecurity vulnerabilities and how public-private partnerships are integral to our Nation's future. The panelists also discussed past cryptology and cybersecurity challenges as we look to the future. And finally, our distinguished guests each shared rich and valuable stories and anecdotes, as well as a bit of good humor!
Former directors who participated on the panel included: ADM Bobby Inman, USN (Ret); ADM William Studeman, USN (Ret); VADM J. Michael McConnell, USN (Ret); Lt Gen Kenneth Minihan, USAF (Ret); GEN Keith Alexander, USA (Ret); and ADM Michael Rogers, USN (Ret). The discussion was moderated by Greg Myre, National Security Correspondent, NPR who did an exceptional job!
This event was free, however, special anniversary donations were much appreciated. We are also pleased to report that we welcomed many new members as a result of this exciting program! As we continue to expand our reach by diving deeper into the Education portion of our mission, donations and membership dues help us to reach more students. Donations also help us to continue to offer support to the National Cryptologic Museum. Click here if you are interested in joining or making a donation.
We want to THANK all who joined us live and all who registered, donated, or began/renewed a membership. MANY thanks to our moderator, Greg Myre. And.....
***We are especially thankful to Dell & partner FEDDATA, as well as Peraton, ManTech, AT&T, and Accenture Federal Services
for sponsoring this special event.
FedData, Dell, Peraton, and ManTech are also Founders' Group Donors for the project to build the Cyber Center for Education & Innovation (CCEI).
Sponsorship: For information about sponsoring an upcoming event, please contact Rebecca Diamond at rdiamond@cryptologicfoundation.org
We invite you to enjoy a recording of the program below. We also invite you to stay tuned to this Anniversary Section of our website for news about more Anniversary-related programs and activities.
---
Many Thanks to Our Generous Event Sponsors