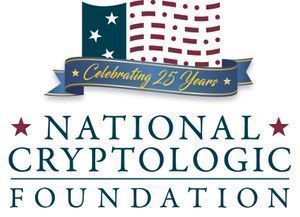 A New Name for the Foundation as We Embark on the Next 25 Years
---
The Foundation has exciting news to share!
A message from our President & CEO Laura Nelson ~
On March 5th 2021, our Board of Directors officially approved a resolution to change the name of our organization to the National Cryptologic Foundation (NCF). The steps to make that change complete are currently in process.

While we were originally incorporated to support activities, displays, and artifact acquisition for the National Cryptologic Museum, over the years our mission has broadened to include a robust Education Program and a capital campaign to build the Cyber Center for Education & Innovation. We believe our new name helps to reflect this broader mission.

We will continue to Educate the public and inspire our nation's students to explore cryptology and STEM fields of study; Stimulate robust dialogue and engagement with the American public on cyber policy, technology, and privacy; and Commemorate all "those who serve in silence" in the cryptologic mission with valor and distinction.

Our support of the National Cryptologic Museum remains a vital part of our mission, especially as we expand our partnership with the National Security Agency. The NCF will continue to preserve our treasured legacy, while expanding our reach so that we may continue to strengthen public understanding of the cryptologic mission, as well as inspire the next generation to serve.