Museum Acquisitions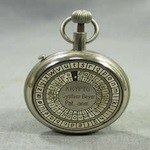 Over the years, a WIDE variety of artifacts, publications, and other items have been acquired by the NCMF for the National Cryptologic Musuem.
From the rarest of photos and letters, to cipher machines, early cryptologic equipment, and a vast array of books and other publications - you will find it all on our Web site and in the Museum! Also on our Web site we feature Special Acquisitions - such as the numerous collections of items donated by noted cryptologic historian David Kahn. 
Don't forget to visit the Acquisitions section of our full Web site to peruse the variety of interesting artifacts.