CIRA and AFIO 40th Anniversary Event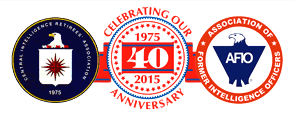 On 25-26 August 2015 in Virginia, the CIRA (Central Intelligence Retirees Association) and the AFIO (Association of Former Intelligence Officers) held a joint conference and celebration of their 40th anniversaries. The Conference was a super gathering of intelligence specialists and several panels to discuss recent changes to address lessons learned. The NCMF was honored to have a busy table at this exciting event. Visitors to our table especially enjoyed photos of Museum items. We were also thrilled to have an NCMF member from New York renew at the Sustaining Member level! Thank you!
Click on each photo for larger views & additional details.
At the evening dinner, the NCMF was represented by William Kvetkas and Dr. Sally Botsai at the head tables. It was a great dinner with many insightful comments of intelligence activities over the latest 40 years.

Click for larger view & additional details.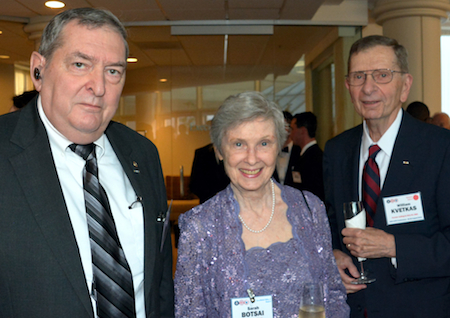 M. E. 'Spike' Bowman, Chairman, BOD, AFCEA; Dr. Sarah Botsai, NCMF member, and William T. Kvetkas, Jr., NCMF
The event featured an impressive array of speakers from the CIA, CIRA, AFIO, and IC who provided presentations and/or served as panelists for discussions. Day One of the celebration also coincided with the next CIA Annuitant Reunion where many CIRA and AFIO members, who are CIA retirees, were in attendance.
Day Two continued with expert presenters, including the luncheon keynote address by Stephen Grey, UK Journalist/Reuters, author of newly released, and highly praised... The New Spymasters: Inside the Modern World of Espionage from the Cold War to the Global War on Terror.
The second day ended with a "Spies in Black Ties"™ Anniversary Reception and Awards Banquet with an address by The Honorable Charles E. Allen, who held a number of senior positions in the Intelligence Community including Assistant Director of Central Intelligence for Collection, Under Secretary for Intelligence and Analysis, Department of Homeland Security, Chairman of the National Intelligence Collection Board, and the National Intelligence Officer for Warning.
Many thanks to the AFIO, CIA, & CIRA for hosting such an excellent event and for including the NCMF!