CyberMaryland 2014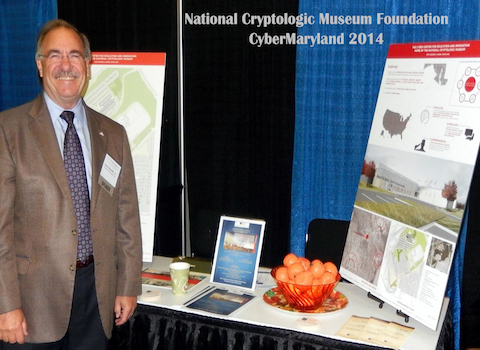 The National Cryptologic Museum Foundation was honored to participate as both a sponsor and exhibitor of the CyberMaryland 2014 Conference held in Baltimore, MD on 29-30 October.
Foundation member John Garcia manned the exhibit booth and had the pleasure of talking with many folks about the Foundation and the National Cryptologic Museum. Many visitors to the booth were especially interested in learning about the plans for the new Cyber Center for Education and Innovation and home of the new National Cryptologic Museum. Individuals inquired about hosting cybersecurity classes and cyber training at the new facility.
There was a lot of interest in the development of a new Story of Cyber Display coming to the museum by January 2015. This new upcoming display was of special interest to the teachers and students involved with the cyber contests sponsored at the event.
The booth attracted many individuals interested in touring the museum, as well as those interested in supporting the Museum by becoming a Foundation member. There was also a visitor interested in hosting a reunion at the NCM for those associated with Atsugi, Japan.
The CyberMaryland 2014 Conference featured a wide array of nationally known speakers such as Admiral Michael Rogers, Director, NSA, plus presentations and exhibitors, as well as a educational opportunities, a Cyber Career Job Fair, the Cyber Hall of Fame Awards Dinner, and of course, the Cyber Challenges!
Visit the CyberMaryland2014 page on fbcinc.com for more details.