Cryptologic Bytes Highlights
Coded POW letters from WWII Solved
Posted on 05/02/2013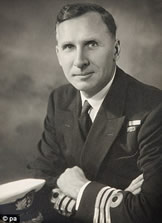 The letters sent back home by Sub Lieutenant John Pryor from a German prison camp seemed innocent enough. They often started with 'My Dear Mummy & Daddy' and talked about mundane things such as gardening and a 'vegetable patch.'
But the British wartime letters actually contained hidden messages, which have only now been deciphered by academics. It is the first time the captured serviceman's family has been able to understand the secret messages.
Sub Lt Pryor, pictured here, was captured at Dunkirk in 1940 and sent to a prisoner of war camp.
Read more in the U.K Daily Mail.