William E. "Ed" Kirk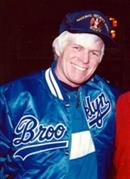 Excerpted from Baltimore Sun article by Jacques Kelly
On October 24, 2016, William E. "Ed" Kirk Jr. of Ellicott City, MD passed away at the age of 81 from complications of pneumonia. Ed's NSA career spanned 30 years. He retired in 1995.
Born in Baltimore, he was the son of William E. Kirk Sr., an Edgewood Arsenal civilian employee, and Anne Kirk.
Family members said that as an 11-year-old, he contracted polio, underwent surgeries and spent a year in the Kernan Hospital near Dickeyville. "For most of his life, he walked with a cane. He overcame this obstacle and many obstacles in his life," said his daughter, Kimberly Hess of Pasadena. "He went on to play basketball and softball. He played until he was 70, and then he managed the teams."
Raised in Edgewood, he was a graduate of the old St. Stephen's School in Bradshaw and earned a bachelor's degree from the University of Baltimore. He also studied electrical engineering at the Johns Hopkins University.
"He had an outgoing personality and was so very friendly," said his daughter. "Nobody was a stranger to him. As a senior executive, he was down to earth and friendly. Even in his top job, he did not wear a tie. He wore cowboy boots and one of his Orioles or Dodgers jackets. He rarely wore a suit to work."
He first came to the NSA in 1958 under an RCA contract for an antenna design. In 1961 he joined the Agency, and at the time of his 1995 retirement, he was Deputy Chief of Installation and Logistics. Family members said he managed 1,300 people who did facility maintenance, engineering and construction at the Fort Meade facility.
He had previously been Deputy Director of its Office of Security for 11 years and Deputy Director of the Office of Contracting for three years.
"He was a mentor to many co-workers and had no problem motivating them," said his daughter. "For all his strengths as an engineer, he was not computer-savvy. He wrote his notes out on yellow legal pads and carried a pack of 3-by-5 note cards."
Mr. Kirk was a charter member NSA's Senior Cryptologic Executive Service. He received his agency's Meritorious Civilian Service Award and the Presidential Rank Meritorious Executive Award.
At one time he held season tickets to the Baltimore Colts, and also cheered for the Orioles — as well as the Dodgers in Brooklyn and later Los Angeles.
He played and coached softball for the Baltimore Beltway Senior Softball League.
"I played ball on the same team with him for 20 years," said Frank Kitzmiller of Dayton in Howard County. "He managed the team for years. Our won-loss record was consistently good. He brought his personality to the team. He was a good manager, and he had a good head on his shoulders."
"Ed was probably one of the best Orioles fans who walked the streets of Baltimore," said Charles Nossick, a friend who lives in Pasadena. "We worked together at the same organization, and he was a great listener. And more importantly, he took action."
Mr. Kirk traveled extensively overseas and also enjoyed visits to Hilton Head Island, S.C.
He was a collector of Chevrolet El Caminos, a car that is part pickup and part sedan.
"He liked having the convenience of the combined car-and-truck thing," said his daughter. "He also liked sporty black cars, including his Jaguar sedan. He never had a station wagon. There were six of us years ago in the family, and at that time he drove a big Chevy Impala Super Sport."
He would spent a portion of weekends washing his vehicles. "He kept his cars in such good shape, people were always asking if his vehicles were for sale," his daughter said.
Beloved husband of Joyce Kirk; Loving father of Kimberly Hess (Ken), Kristina Klockner (Dave) of NJ, Kerri Beth Chamberlain (Todd) of AL, Maryann Spekis (Al), Frank Hainley, and Tracy Miciche (Gary); Dear brother of Sharon Dellinger (Marlin) of NV; Cherished grandfather of 17 and great-grandfather of 8.
He was preceded in death by his first wife, Elizabeth "Bettye" Kirk, and by his daughter, Kandi Kirk.
Relatives and friends are invited to visit at the Witzke Funeral Homes, Inc., 5555 Twin Knolls Rd., Columbia, MD 21045 on Tuesday, November 1, 2016 from 2 to 4pm and 6 to 8pm. A Mass of Christian Burial will be celebrated on Wednesday, November 2, 2016, 11:00am, St. Paul Catholic Church, 3755 St. Paul St., Ellicott City, MD 21043. Interment private.
In lieu of flowers memorial contributions may be made to the www.cancer.org and/or to the www.woundedwarriorproject.org.
Donate to the NCMF in Ed's name in order to help ensure his inclusion in the In Memoriam Registry.
Expressions of sympathy may be sent to:
3609 Valley Road
Ellicott City, MD 21042
Click to read the Baltimore Sun article about Ed online.