Exceptional Guided Tours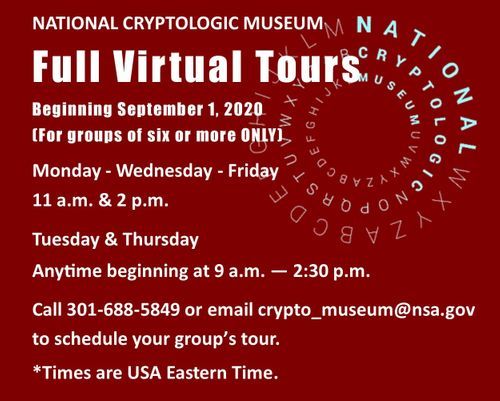 Ideal for retiree groups, college classes, or adults looking for something unique and interesting. Very knowledgeable museum staff or volunteer docents lead groups on guided tours of the museum. The tour covers cryptologic history and the significant role that making and breaking codes has played in American/world history. You will learn how messages were sent during the Civil War, how the U.S. entered WWI due to a broken German message, touch a real working German Enigma from WWII, see the machine that decrypted the Japanese "Dec. 7, 1941" message, learn about the Native American Code Talkers, see some of the earliest supercomputers and secure telephones, and much more. Read more about our Docent Program here.
Advertising Program
Described as one of the most unique museums in the United States, the National Cryptologic Museum welcomes approximately 100,000 visitors each year who tour the museum to learn about cryptologic history. The NCMF helps attract new visitors with an attractive advertising program. - 8 Panel Color Brochure: In coordination with the museum, the Foundation produces an eight-panel color brochure highlighting the museum's many priceless exhibits, collections, and guided tours. These highlights and the bonus of free admission make the NCM a popular destination for families, school trips, and tour groups. The Foundation makes sure that display racks at 120 locations in Maryland are filled with the NCM's colorful brochures. The brochures are also available to museum visitors and are used in Foundation membership campaigns. -Bi-Fold Postcards: The Foundation publishes and distributes table tents advertising the museum and upcoming cryptologic events sponsored by the Foundation. A team of volunteers distributes the table tents to NSA cafeterias, lobbies of corporate offices, schools, libraries and coffeehouses in the Baltimore-Washington corridor.