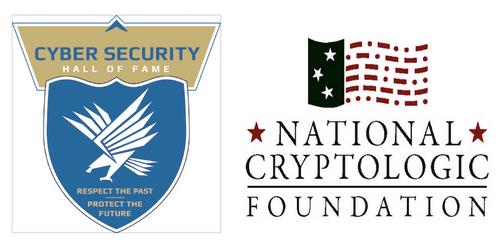 2023 Cyber Security Hall of Fame
Please join us for the Cyber Security Hall of Fame Awards. On November 16th, the National Cryptologic Foundation is partnering with Global Cyber Security Hall of Fame to host this special evening of honors. Join us to celebrate the 2023 honorees.
The Cyber Security Hall of Fame represents the mission: "Respect the Past - Protect the Future," and honors innovative individuals and organizations possessing the vision and leadership necessary to create the foundational building blocks for the Cyber Security industry.
When: Thursday, November 16, 2023, 6:00 - 10:00 pm EST
Where: LIVE Casino at 7002 Arundel Mills Circle, #7777, Hanover, MD
*** See info about Sponsorships and 2023 Sponsors below, as well as the link to purchase a sponsorship or table.
Stay tuned for more program details as they become available. Thank you & we look forward to seeing you in November.
Contact Info:
Rebecca Diamond, NCF Development Director
rdiamond@cryptologicfoundation.org
---
2023 Sponsors
2023 Tables
---
Event Sponsorships
Includes:
* Signage during cocktail hour
* Logo on cocktail napkins
* Logo on marketing materials
* Logo promoted during award event in slide show-thank you
* Cocktail Sponsor gives a toast during Cocktail Hour
* Table for 10 – Second Row Prominent table placement

Includes:
* Signage during After Hours Party
* Logo on marketing materials
* Logo promoted during award event in slide show-thank you
* Table for 10 – Second Row Prominent table placement
* After Hours Party Sponsor gives a toast during After Hours Party

Includes:
* Logo on marketing materials
* Logo promoted during award event in slide show-thank you
* Small table tent on each table acknowledging Centerpiece Sponsor
* Table for 10 – Second Row prominent table placement

Includes:
* Logo on marketing materials
* Front row table - 10 seats for dinner
* Opportunity to introduce an honoree on stage.
* Logo promoted during award event in slide show-thank you

Includes:
* Second row – prominent placement table
* 10 seats for dinner

Includes:
* 10 seats for dinner