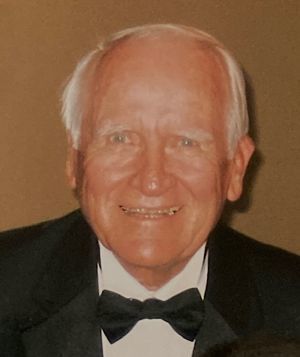 Don Raymond Wickstrand of Vero Beach FL passed away on Sunday, September 19, 2021 at the age of 88. Don died at his home with his loving wife, Joanne, and beloved daughter, Heidi Chamberlin at his side.

Don was born and raised in Portland, OR on June 13th, 1933. He was the second son of Oscar and Edna (Rosengren) Wickstrand, who had immigrated from Sweden years earlier. Don learned his Christian values, patriotism, and strong work ethic from his parents. As a youth and throughout college, he excelled in sports, was a good student, and was eventually named to Who's Who in American Colleges in 1955.

Don joined the Reserve Officers' Training Corps (ROTC) while at Monmouth College (now Western Oregon University) and embarked on a twenty-seven-year career in the US Armed Forces as a Naval Officer. His tours of duty included overseas tours in Japan, Spain, Italy and England, and stateside tours of duty in California, Virginia and Maryland. Don held various assignments throughout his career in the field of cryptologic operations. Once he retired as a Captain from the US Navy, he worked in the private sector as an award winning Program Manager.

Don is survived by his wife, Joanne (Moore), his three beloved daughters whom he shared with their mother, Donna (Reed) Wickstrand, Sally Wells (Alan), Julia Pearce (Jim) and Heidi Chamberlin (Chris), his cherished grandchildren, Nick, Holly, Marie, Claire, Michaela, Ian and Emma, and his one and only great granddaughter, Blakely. His extended family include; Tim and Lynn Moore, his brother and sister-in-law, Rick, Mark, Jessica and Beatrice Keiser, and Kay, Mary, Carol, and Phil Johnson and their families. Don had the privilege of enjoying lifelong friendships with Don Clarke, Dallas Nelson (cousin), and Lucille Rogers and his classmates from Franklin High School. His life was blessed by these special relationships.

As a retiree, Don was an active member in the Navy League and Military Officers Association where he served in leadership positions. He was an avid reader and volunteered to collect, pack, and send books to our deployed Armed Forces. He also volunteered to work in the Veterans Store, and enjoyed opportunities to award scholarships to ROTC High School student leaders as they pursued their aspirations.

Don was predeceased by his parents, Oscar and Edna, his former wife, Joann (Johnson) Wickstrand and his siblings, Kenneth and Corrine, and his niece Kathleen.
In lieu of flowers, Don encouraged donations to go to the organization of your choosing that makes this a better world. He asked that everyone treat each other with kindness, work for what is right and what you hold dear, and tell those you love how much they are appreciated.

Don will be interred at the Arlington National Cemetery at a future date.