"On This Date in History" Calendar
1985: SECAF approved women for duty on EC-130 aircraft.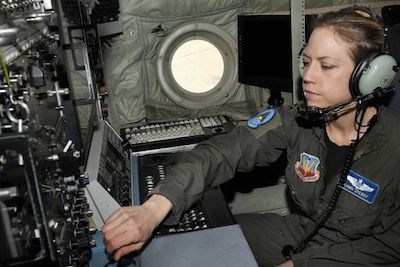 29 April 1985: SECAF approved women for duty on EC-130 aircraft.
Photo: Mission: Electronic Attack/Early Warning from military.com
From the above-noted site:
A heavily modified version of the C-130 Hercules airframe, the EC-130H Compass Call is the primary electronic attack and electronic early warning aircraft for the U.S. Air Force. The Compass Call disrupts enemy command and control communications and limits adversary coordination essential for enemy force management. The Compass Call system employs the offensive counterinformation and electronic attack or EA capabilities in support of U.S. and Coalition tactical air, surface, and special operations forces.
The EC-130H aircraft carries a combat crew of 13 people. Four members are responsible for aircraft flight and navigation (aircraft commander, co-pilot, navigator and flight engineer), while nine members operate and employ the EA mission equipment permanently integrated in the cargo/mission compartment. The mission crew includes the mission crew commander (electronic warfare officer), weapon system officer (electronic warfare officer), mission crew supervisor (an experienced cryptologic linguist), four analysis operators (linguists), one acquisition operator and an airborne maintenance technician.
The Compass Call was delivered to the Air Force in 1982, and had its first flight in 1981. The aircraft has demonstrated a powerful effect on enemy command and control networks in multiple military operations including Kosovo, Haiti, Panama, Iraq, Serbia and Afghanistan.
All Compass Call aircraft are assigned to Air Combat Command. The EC-130H Compass Call is operated by the 55 Electronic Combat Group (41st, 42nd and 43d Electronic Combat Squadrons) at Davis-Monthan Air Force Base, Ariz.