"On This Date in History" Calendar
1943: Shootdown of Admiral Yamamoto.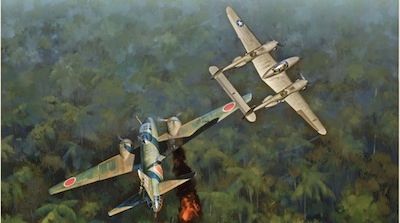 18 April 1943: Shootdown of Admiral Isoroku Yamamoto by U.S. forces.
On 18 April 1943, US forces shot down the aircraft carrying the Commander-in-Chief of the combined fleet of the Imperial Japanese Navy, Admiral Isoroku Yamamoto. Cryptanalysis played a key role in this event. US Navy cryptanalysts had solved the Japanese fleet code, JN-25, in the spring of 1942. They were privy to many of the subsequent messages sent by the Japanese high command. Included in those messages was the exact itinerary of Yamamoto's planned inspection trip throughout the South Pacific. It stated not only the departure and arrival times at various islands of the Solomon Islands and New Guinea, but also the type and number of his escort planes. With this advance knowledge, US Army Air Force planes intercepted the Japanese bomber carrying the admiral. All six escort planes and the two bombers were shot down.
"Admiral Yamamoto, commander of the Imperial Japanese Navy's Combined Fleet, was the Harvard-educated, poker-playing mastermind of the December 7, 1941, attack. Navy code-breakers had intercepted Japanese radio traffic indicating that the admiral, known for his fanatical punctuality, would fly over Bougainville Island early the next morning, April 18, 1943—coincidentally the first anniversary of the Doolittle Raid. The newly appointed air commander in the Solomons, Rear Adm. Marc A. Mitscher, who had captained the carrier Hornet on the Doolittle mission, now saw the chance for another long-range surprise attack, this time with the 339th's Lockheed P-38G Lightning fighters." (From History.net - Death by P38)
Image info: A P-38G Lightning of the 339th Squadron, 347th Fighter Group, shoots down a G4M1 bomber carrying Pearl Harbor mastermind Admiral Isoroku Yamamoto on April 18, 1943. (c. Jack Fellows, ASAA)