"On This Date in History" Calendar
1938: SIS started receiving messages from Purple.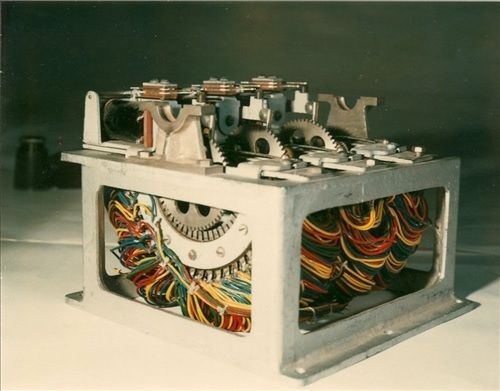 20 March 1938: SIS began receiving messages from Purple - a Japanese Cipher machine. Pictured here is a photo of the largest of three surviving pieces (telephone selector switches) of the famous Japanese diplomatic ciphering machine. It was recovered from the wreckage of the Japanese Embassy in Berlin, 1945.
PURPLE was the second of two Japanese diplomatic machine-generated cipher systems broken by the U.S. Signals Intelligence Service (SIS). In 1935, the SIS successfully broke Japan's machine produced RED system. In 1938; however, Japan began using a more complex and challenging system that the SIS referred to as PURPLE. In time, through a combination of hard work and effort, the SIS team met with success. The secret diplomatic communications of the Japanese Empire, hidden behind the PURPLE ciphers, were now open to the Americans. These decrypted messages, marked "Top Secret MAGIC," gave senior American decision makers insight into the thinking and policy of Japanese government officials in the days and months leading up to the attack on Pearl Harbor. However while the information contained in MAGIC gave select US and military leaders insight into future Japanese intentions on a broad level there was no specific information in MAGIC that would have enabled America to predict the attack.
Click the link below to visit the Museum's virtual Magic of PURPLE exhibit via Virmuze.