"On This Date in History" Calendar
1969: USAF EC-47, "CAP 72," lost in Vietnam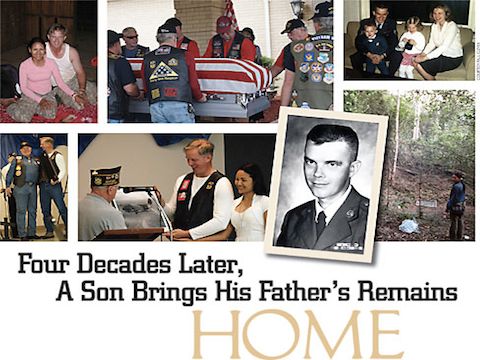 5 February 1969: USAF EC-47, "CAP 72," was lost in Vietnam.
The NCMF website contains a great amount of information about CAP 72 and Paul and Nita Clever's efforts via MRSEA: Maximum Recovery in Southeast Asia to at last bring home and lay to rest the remains of the crew of this plane that included Paul's father, TSgt Louis Clever. And now the MRSEA recovery efforts continue as they seek to bring home others who were lost in Southeast Asia.
PLEASE VISIT the links AT THE END of this article to various pages and articles on our site that contain information, documents, video links, and links to news articles. There are also updates from Paul Clever about MRSEA's continuing recovery missions.
On February 5, 1969, an American EC-47Q aircraft on a classified combat mission (call sign CAP 72) departed Pleiku Air Base, Republic of Vietnam (RVN), with five 6994th Security Squadron personnel and five 362nd Tactical Electronic Warfare Squadron crew members on board. Moving to within twenty miles of Ubon Airfield, Thailand, the aircraft circled back into Laos on a southeastern heading, passing the city of Saravane, Laos. Communication with the aircraft reported all conditions normal. After that exchange, all attempts to make contact with the aircraft failed. Search efforts found no trace of the aircraft or its crew — CAP 72 had vanished.
The members of this ill-fated mission along with their crew positions were: MSgt Wilton Hatton (Flight Engineer), Sgt James Dorsey (Operator), Capt Walter Burke (Copilot), Maj Homer Lynn (Pilot), Lt Col Harry Niggle (Second Navigator), Sgt Rodney Gott (Operator), A1C Clarence McNeill (Operator), SSgt Louis J. Clever (Operator), Maj Robert Olson (Navigator), and SSgt Hugh Sherburn (Operator).
Four months after the loss, a CAS team located and recovered evidence linking a site to the CAP 72 loss. They also collected approximately 30 lbs of comingled skeletal remains. Petitions made to return to the site were denied. When the remains finally arrived at Dover AFB mortuary, another analysis indicated the remains of five crew members. The interment of the Cap 72 remains was ordered, citing that evidence of death had been received. Though a burial took place in 1969, many of the families of the crew felt cheated out of the evidence needed to support closure.
In 1995, a JPAC team stumbled on the site and found the dog tag of the EC-47's copilot and more human remains. Those remains were sent to the US for DNA analysis.
In 2011 Paul Clever, son of EC-47 crew member TSgt Louis Clever, started the organization MRSEA: Maximum Recovery in Southeast Asia with the specific mission of finding, marking, and excavating the wreckage of CAP 72 to insure a determined effort has been made towards achieving "maximum recover" of crewmember remains.
Maximum Recovery in South East Asia (MRSEA), led by Paul Clever and his wife, Nita, took ownership of driving the accounting for the crew of the EC-47Q. A Search and Recovery Mission was executed in December 2012 to Southern Laos, and it was during this mission when more remains of the crew were recovered and returned to the United States. DNA analysis of the remains indicated that in addition to two others, Paul had in fact brought home his father.
Paul Clever's father, TSgt Louis Clever was laid to rest in May 2015. See the link below to watch a video tribute to TSgt Louis Clever.
After three long and emotional years of hard work as part of MRSEA: Maximum Recovery in Southeast Asia, Paul and Nita Clever's recovery mission to Thailand helped bring home a crew whose plane went down decades ago.
The remains buried at Jefferson Barracks National Cemetery in Missouri were disinterred in February 2013 for DNA testing to try to determine which of the crew had been returned home. These remains were repatriated on May 25, 2013 in Olive Branch, MS. This event was open to the general public to experience this seldom seen and memorable ceremony to honor and remember these heroes who made the supreme sacrifice for the liberties we enjoy.
Larry Tart has produced a video of the May 25 repatriation ceremony which can be viewed on YouTube (see link below).
After DNA analysis was complete on all returned remains, 7 of the 10 crew members were identified. Of the remaining three, one family had identification via the found dog tag. Unfortunately, the family of the other two crew members will likely never recover any remains of their loved one.
The five USAFSS members of the crew have been honored by their names being placed on the NSA's Memorial Wall (see link below).
Exhibits Featuring the EC-47
When visiting the National Cryptologic Museum, remember to explore the airborne reconnaissance display, featuring, among other items, information about EC-47 crew losses in Vietnam. There is also an ARDF exhibit at Goodfellow AFB that was dedicated in 2014. When you are there, make sure to purchase one of the commemorative EC-47 coins sold by the AF Freedom Through Vigilance Heritage Association.