The NCMF was honored to support the 3rd Annual Howard County STEMulating Minds Math Festival for K-12 students on November 10th at Long Reach High School in Columbia, MD, with a table and displays. During the festival - children, friends, and family, and learn about how math is used in the real world and about great opportunities in math careers.
Elementary school students learn to create secret codes and solve math puzzles. Middle School students learn how to send their friends secret messages. High School students learn about math and careers.
One of the highlights at the NCMF table was working on the "Second Glance" puzzle from the Washington Post of the Enigma machine—12 differences between the two pictures, the original and the altered picture. The students enjoyed working on the puzzle and did a great job!
Some of the participants enjoyed representing a character for the day. For example, one group dressed as famous women in science, including Hedy Lamarr who was honored on November 9th with a Google Doodle. See the photo below and see if you can figure out who they are dressed as. And of course, Star Wars characters were represented at the festival too!
Other participating organizations included the U.S. Coast Guard, American Eagle, Urban Video Games Association, Science Cheerleaders, Numbers Alive and the Columbia Association.
Visit the Howard County STEMulating Minds Math Festival Page.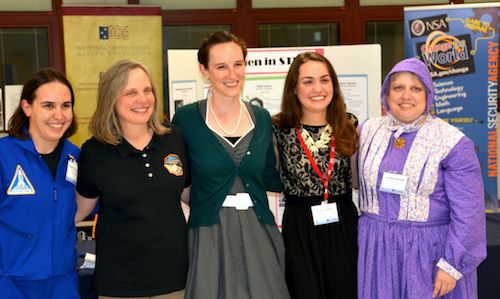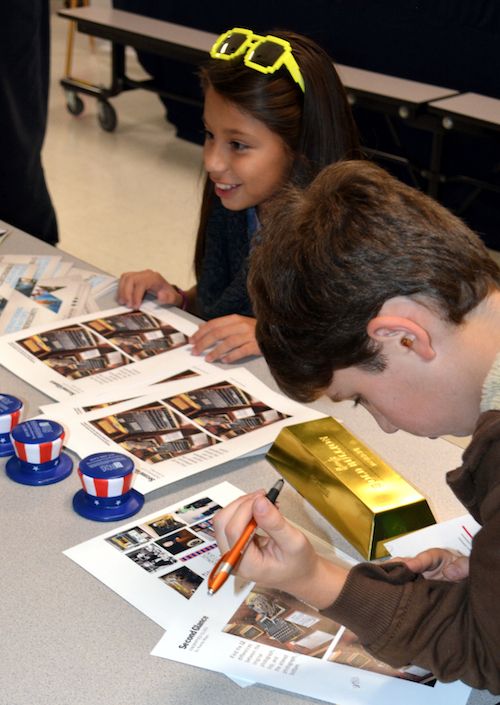 NCMF's John Garcia works with students on the Enigma Puzzle

Star Wars Characters at the 2015 Howard County Math Festival

Students work on the Washington Post's "Second Glance" Enigma Puzzle

Washington Post "Second Glance" Puzzle - featuring the Enigma